FESPA 2014 - ColorGATE Presents Film & Repro Solutions Portfolio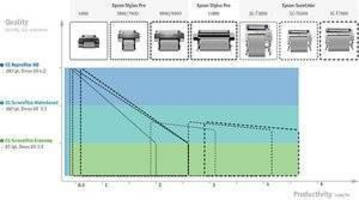 ColorGATE will be presenting this solutions portfolio for the first time in a separate folder at FESPA 2014. Furthermore, ColorGATE experts will be available at the ColorGATE stand (hall B1, stand B1-269) as well as on the Epson stand (hall B2, stand B2-310) to answer all questions related to the digital film production.



For more than ten years, ColorGATE has been developing and providing RIP Software and daylight media specially designed for chemical-free film production using inkjet printers. These solutions are gathered under the name of Film & Repro Solutions.



These solutions comprise of a RIP Software Filmgate or Productionserver + Filmgate Module (FGM), a printing system and a corresponding film media from the CG Media program. A combination which is especially developed and composed for flexo-, offset- and screen printing applications.



Perfect synergy – ColorGATE RIP Software, Epson printing systems and CG Media film media, can be gathered from our new infographic.



The infographic shows all Epson printing systems supported by Filmgate and Productionserver + FGM for the application of film production as well as the corresponding film media products of the CG Media portfolio.



The combination of the printer and film media results in a quality-/ productivity relation, which can be covered by the specific film media, CG Reprofilm HD, CG Screenfilm Waterbased or CG Screenfilm Economy.



Quality is a combination of the attainable UV density (DmaxUV) and the maximum screen ruling (lpi) with a sufficient acutance of the screen dots.



The Productivity (sqm/h) of a printer can be increased from uni- to bidirectional mode, but this affects the final quality of the acutance.



Filmgate 8 is the worldwide leading RIP Software for chemical-free film production using inkjet printers for flexo-, offset- and screen printing in high-end quality.



Solution for comprehensive prepress using digital printing systems

Consistently reproducible results and maximum reliability in the production process due to unique ColorGATE MIM (Media Ink Metamode) technology; MIMLs are available for all supported Epson printers and several other printing systems

Reliable end-to-end processing of composite PDFs (PDF/X4) as well as separated PDF files

Predefined screening sets and linearizations for all popular inkjet printer series and screen rulings (up to 180 lpi)

Full support of an unlimited number of spot colors; individual sets and screening settings can also be defined for spot colors

Highly efficient ICC color management for color-accurate In-RIP separation

ColorGATE provides four different screening technologies with distinctive benefits for the individual needs of the end users:



Custom Screen

High flexibility is one of the key advantages of this AM screening. The end user can define individual screen angles and frequencies as well as dot shapes. Quick adjustments to any requirement up to 120 lpi can be applied easily.



Super Rosette 2

This screening utilizes a supercell technology to match top quality requirements. The resulting screen angels are extremely precise which lead to an accurate and uniform print quality with screen rulings up to 180 lpi.



Frequency Screen

Frequency Screen, an FM- stochastic screen, provides excellent properties to avoid moiré effects completely. A modern and efficient algorithm distributes the screen dots in an optimal way. Additionally, the size of the FM-dot in the range between 50ƒÊm and 220ƒÊm is freely selectable, which allows an adjustment of the screen to the respective process. So even large-meshed screens can be used for printing FM screens. Result: low noise prints without any interference patterns.



Hybrid Screen 2

Hybrid Screen 2 combines the line accuracy and homogeneity of the Super Rosette 2 technology, and minimizes at the same time the risk of moiré effects. The operator remains fully flexible in assigning color planes to AM- or FM-stochastic screening.



Productionserver combines digital and conventional production methods in one comprehensive RIP Software, so that users of conventional printing techniques are able to obtain the added value of digital print production in terms of its ability to produce short print runs as well as single prints.



Productionserver 8 (PS8) equipped with the Filmgate Module (FGM) enables film printing in addition to digital proofing, as well as the broad field of digital production printing.



Specially for screen and flexo printing, ColorGATE has two Special Editions on offer. These two Editions have been designed and developed using our longstanding experience in the field of digital film production. They are equipped with all necessary modules and extensions, with a price advantage compared to an individual configuration.



PS8 CTS Edition is the perfect RIP Software solution to prepare print data for computer-to-screen systems (CTS). The focus lies on the used screening technology to achieve the highest possible stencil quality. These stencils increase the printing quality of the screen printing process enormously. Additional software features are helping to control the full process to optimize productivity.



The PS8 Flexo-Packaging Edition targets packaging design and packaging printing. A comprehensive software solution for proofing, flexo film production as well as for digital production printing.



Under the CG Media seal of quality, we offer special products, of which some are exclusively manufactured by selected partners according to our specifications for demanding users to ensure consistently high production quality.



As the leading solution supplier for digital imaging solutions and Color Management, ColorGATE consistently focuses on meeting all the technical and application-oriented challenges with respect to print heads, inks, media and digital controlling. Our goal: Excellent print results for the required application



The CG Reprofilm HD is a high end film that ensures optimal results for almost every reproduction method. Excellent print results with UV densities exceeding 4.0 are possible, without any loss of quality. Furthermore, the CG Reprofilm HD is equipped with a special coating that is able to absorb a maximum amount of ink by rapidly sealing the film. The matting will prevent any sticking of the media, so that even sensitive emulsions can be processed despite higher printing speeds and shorter drying times.



CG Screenfilm Waterbased is the perfect daylight medium for high-end screen-print production and is able to deal with even large amounts of ink. The special coating ensures excellent UV densities up to 3.5. In addition, CG Screenfilm Waterbased exhibits impressive vacuum behavior and perfect compatibility with all popular screen-print emulsions. CG Screenfilm Economy can be produced at significantly lower cost due to its lesser thickness and thinner coating.



More information about these products and solutions can be found in our new Film & Repro Solutions folder. You can receive a sample of the CG Reprofilm HD together with the new folder exclusively at FESPA 2014. Visit us at the ColorGATE stand (hall B1, stand B1-269) and at the Epson stand (hall B2, stand B2-310).



About ColorGATE

Since 1997 ColorGATE is successful developing software solutions, RIP Software and printer driver technology for the Commercial Printing (Digital, Conventional Printing, Prepress) and Industrial Printing.



Our core product Productionserver a modular RIP and Color Management software is used by thousands of digital imaging end users all around the world every day. We are actively engaged in the emerging Industrial Printing market since its beginnings 10 years ago. With SmartControl we are offering a complete practice-approved Industrial Printing Operating System (IP OS).



As experts for excellent Color Management and comprehensive control of printing sys-tems, we are committing our knowledge day-to-day to our end users and partners to deliver individual and flexible solutions for various requirements and application areas.





More from Packaging Products & Equipment