Ferrotec Offers Customized Thermoelectric Modules with Temperature Control to Within 0.1 Degree Celsius
Press Release Summary: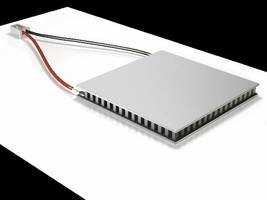 The Customized Thermoelectric Modules are used as cooling laser diodes in head up display and laser head lights, cooling batteries of electric and hybrid cars and as cool cup holders in car cabins. The units feature plate like semiconductor Peltier effect devices and provide control to less than 0.1°C.
---
Original Press Release:
Ferrotec Launches Customized Thermoelectric Module Technology for Cooling and Heating Applications in Automobiles
TOKYO, September 25, 2018 /PRNewswire/ -- Ferrotec, the world's largest manufacturer of thermoelectric modules (TEM) today announced the expansion of its TEM business into the automobile sector. Specific applications of Ferrotec-TEM technology include cooling and heating of batteries in electric and hybrid vehicles. Ferrotec's high performance thermoelectric modules are custom designed devices offering highly responsive temperature control to within 0.1 degree Celsius.
"Ferrotec has a 36% share of the global thermoelectric module market," says Takayuki Hachida, General Manager of thermoelectric module sales department. "We expect our thermoelectric modules to find wide ranging applications in the automobiles sector and are aiming to increase our annual sales from the current 5 billion JPY to 20 billion JPY within four years. Our thermoelectric modules show excellent coefficient of performance (COP). Importantly, our technology is applicable for both cooling and heating components in automobiles. Needless to say, we back up our technology with Ferrotec's global network of technical support." 
Ferrotec thermoelectric modules 
Ferrotec is the world's largest manufacturer of bismuth telluride (Bi-Te) thermoelectric modules (TEM) (Peltier Effect devices). To-date the company's TEM have mainly been used for cooling chillers, optical communications, biotechnology, air conditioners, as well as a wide range of consumer electronics.
Now, starting in Fall 2018, the company will focus on applications of Ferrotec-thermoelectric modules in the automobile industry, in particular for electric and hybrid cars.
Specific applications include: 
Cooling laser diodes in head up displays in automobiles
Cooling batteries of electric and hybrid cars
Cool cup holders in car cabins
Cooling laser devices in LIDAR technology in autonomous vehicles
Cooling laser diodes in laser head lights
Features of Ferrotec thermoelectric modules and technology 
Ferrotec thermoelectric modules are highly responsive and offer control to less than 0.1 degree Celsius. Furthermore, Ferrotec offers customized solutions for clients by designing unique thermoelectric modules for specific applications.
New heating applications of thermoelectric modules for electric cars in cold climates 
Ferrotec thermoelectric modules are suitable for heating batteries in electric cars to overcome the poor performance of batteries in cold weather conditions.
Peltier devices
Thermoelectric modules consist of plate like semiconductor Peltier effect devices where the passage of electric currents between two different metals sandwiching bismuth telluride semiconductor plates moves heat between the two junctions.
Videos of Ferrotec devices and modules
Thermal module video 
https://www.youtube.com/watch?v=gUJQGVIRZZ8
Cooling Plate 
https://www.youtube.com/watch?v=0Mx8_m3QrOQ
About Ferrotec Holdings Corporation 
Manufacturing capabilities 
Ferrotec employees over 6000 employees worldwide. The company has regional operation centers in North America, Europe, Japan, South Korea, China, Taiwan, Singapore, and Malaysia, and manufacturing bases in the USA, Germany, Russia, Japan, and China.
Founded on a technology core of ferrofluid magnetic liquid and Ferrofluidic® sealing products, Ferrotec and its product portfolio have grown to meet the evolving needs of customers. Ferrotec is now a global enterprise characterized by substantial intercompany cooperation in research, manufacturing and marketing of products.
Ferrotec has various manufacturing facilities in Japan and China. The Hangzhou plant which produces thermoelectric modules is equipped with state-of-the-art fabrication facilities including both class 10,000 and class 100 cleanrooms.
Contact details 
Ferrotec Holdings Corporation, Tokyo, Japan
Corporate Planning Office
Email: automotive@ferrotec.co.jp
More from Software