Feldco Windows, Siding & Doors Beautifies Local Church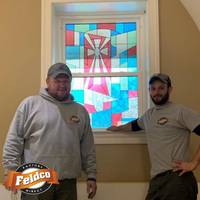 To help finish out the renovations at St. James Catholic Church, Feldco donated stained glass windows for their choir chamber
Des Plaines, Ill. (PRWeb) December 16, 2019 -- Feldco Windows, Siding and Doors recently partnered with St. James Catholic Church of Arlington Heights. The church, originally built in 1955, has been going through significant renovations since February of this year. One of the last remaining projects the church hoped to accomplish in 2019 was replacing the windows in their choir chamber.
The chamber windows were not in good shape, many had holes covered with tape. Some of the choir members mentioned how cold it was when singing in the chamber. Liz Czajkowski, Operations Manager at St. James, was well aware of Feldco's work in the area and reached out to inquire about replacing the windows. While the original windows were beautiful stained glass, she had come to terms with the fact they might have to replace the windows with plain ones, for the sake of simplicity and cost.
Feldco President Ron Gerstung heard about this project and personally visited Liz at the church. He immediately realized that Feldco would be able to replace the windows while maintaining the original stainedglass design. Not only were the aesthetics able to be maintained, Mr. Gerstung was so impressed by the church's beauty and all their renovation work, he arranged for the windows to be donated.
"These windows are an inspiration here at St. James," stated Czajkowski. "It used to be bone chilling in the choir chamber, and less than a week after the windows were replaced, I was receiving emails from our choir members on how lovely it was to be singing in the warmth of the renovated chamber."
Pastor Matt Foley also expressed his gratitude for the generous window donation. He stated the windows are "a beautiful, beautiful display of the importance of stained-glass windows here at St. James."
Feldco executives and members of the management team visited the church after the renovation. "We love hearing about how a few windows made such an impact on this nearby church. Most people don't think of windows as a thing of beauty, and it's great to see firsthand that windows aren't just functional, but can be a source of beauty and inspiration too," stated Gertsung. "We were happy to work with the fine folks at St. James on this project."
St. James Catholic Church is located at 820 N. Arlington Heights, just a few miles northwest of Feldco's headquarters in Des Plaines.
Feldco is the Midwest's leading replacement window, siding and door replacement specialist. Founded in 1976, the company is focused on delighting customers by making home improvement projects simple. With premium products, factory-direct pricing and certified installers, Feldco provides an excellent overall value and experience for over 400,000 customers. The company offers free in-home demonstrations and lifetime product warranties. Feldco serves all of Central and Northern Illinois, Northwest Indiana, Southern and Northeast Wisconsin and Eastern Iowa. Feldco has showrooms in Chicago, Des Plaines, Rockford, Peoria, and Springfield Illinois, Madison, Cudahy and Menasha, Wisconsin and Davenport and Cedar Rapids Iowa. Please visit Feldco's website or contact the company's Communication Center (866-4FELDCO or 708-437-4000) to learn more about Feldco's products and services.
Contact Information:
Liz McCarthy
Feldco Windows, Siding and Doors
http://www.4feldco.com
+1 7084374026
Patti Freko
Feldco Windows, Siding and Doors
http://www.4feldco.com
7084374005
More from Sensors, Monitors & Transducers