Feature-Loaded Dataloggers monitor physical, electrical values.
Press Release Summary: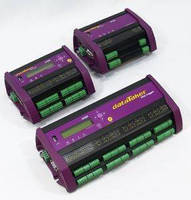 Able to connect to most sensors and data measurement sources, dataTaker Series 3 enable any physical value, including temperature, voltage, current, 4–20 mA loops, resistance, strain gauges, and frequency, to be scaled and logged. Models include DT80, DT85, environmental E series, G series geotechnical loggers, industrial I series, and modem-equipped M series. Along with cold junction compensation, features include communications options, 5 V terminal, and pulse counting.
---
Original Press Release:

Series 3 DataTaker Loggers for Your Application!



Log Data from Many Sensor Types Using One Device!



CHESTERLAND, OH—Do you need to monitor Temperature, Current/Voltage, Pulse, or another physical or electrical value? Now CAS DataLoggers can supply your business or organization with the new dataTaker Series 3 Data Loggers, flexible solutions offering users a suite of communications features combined with higher-precision measurements. No matter what these devices need to measure, they have the flexibility to get the job done. Call CAS DataLoggers today at (800) 956-4437 and see what dataTaker can do for your application!



Truly Versatile Monitoring:

Every day, Series 3 dataTaker dataloggers fulfil applications in every industry. Series 3 dataTakers easily connect to most sensors and data measurement sources, ensuring that almost any physical value can be scaled and logged including temperature, voltage, current, 4-20mA loops, resistance, strain gauges, frequency, and more.



Models include the DT80, DT85, the environmental E series, the G series of geotechnical loggers, the industrial I series, and the modem-equipped M series.



New Series 3 Features:

• Improved cold junction compensation is now available using a high-precision RTD sensor accurate to 0.1%, allowing up to 5x more accurate thermocouple measurements.

• The dataTaker's 5V terminal can power external devices with a limit of 25mA, further extending the loggers' flexibility.

• DT80 and DT85 devices are also viable for pulse counting applications, including measuring flow rate in the wastewater industry and integrated engine speed for automotive design.



Their many communications capabilities include RS232 with modem support, Ethernet and USB memory stick ports, enabling connection to the dataTaker locally, remotely or over the Internet. Featuring support for multiple SDI-12 sensor networks, CANbus, Modbus for SCADA systems, FTP and Web interface, and 12V regulated output to power sensors, the DT80 is an ideal solution no matter the project.



User-Friendly Software:

Free user-friendly dEX software is also included with dataTaker dataloggers, featuring an intuitive graphical interface allowing hassle-free configuration and displaying real-time sensor measurements, calculations and diagnostic information in an easy-to-use Windows Explorer style interface. Real-time data can be viewed in mimics, trend charts, or tables, and users can also retrieve historical data for analysis.



To get users started quickly, dEX comes built-in with no applications to install, runs directly from a web browser, and can be accessed either locally or remotely anywhere that a TCP/IP connection is available including worldwide over the internet.



Hear what one of our customers says:

1. The dataTaker is easily accessible via our local network instead of only via USB;

2. The dataTaker's ability to provide power to sensors has been helpful since we don't need to hook up the DC transformer in series with the sensing devices;

3. The GUI is easy to set up and monitor;

4. Recent data is easily accessible any time it's needed, and real-time data for temperature and pressure can be read on the GUI;

5. The data is retrievable in two separate types of files, in both graphic and comma-separated formats.

--Kristofer Olsen, P.E.

Project Director, Combined Power

www.combinedpower.coop



For further information on the dataTaker Series 3 family of data loggers, other data logging devices, or to find the ideal solution for your application-specific needs, contact a CAS Data Logger Applications Specialist at (800) 956-4437 or visit our website at www.DataLoggerInc.com.



Contact Information:

CAS DataLoggers, Inc.

8437 Mayfield Rd.

Chesterland, Ohio 44026

(440) 729-2570

(800) 956-4437

sales@dataloggerinc.com

www.dataloggerinc.com

More from Software