Fanless Braswell Mini PC is based on Intel's NUC form factor.
Press Release Summary: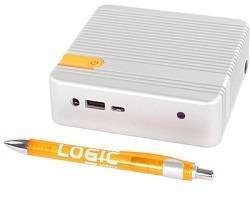 Standing less than 2 in. tall with all-metal construction and no moving parts, Model CL100 features Quad-Core Intel Celeron N3150 processor with onboard Intel HD Graphics. System can power triple independent displays or accommodate 4k resolution. Passive thermal management cools internal components, allowing for completely ventless enclosure. WiFi and Bluetooth capable, CL100 can be configured with up to 16 GB of RAM and up to 512 GB of mSATA solid state storage.
---
Original Press Release:

Logic Supply Makes Fanless Computers Accessible with the Surprisingly Affordable CL100



Hardware manufacturer introduces a fanless,4k capable, Braswell mini PC based on Intel's Popular NUC form factor.



SOUTH BURLINGTON, VT -- Industrial & Embedded computer manufacturer Logic Supply (www.logicsupply.com) has introduced the CL100 Fanless Mini PC, an ultra-compact computer that contains no moving parts, features all-metal construction and stands less than 2 inches tall.



Based on Intel's popular Next Unit of Computing (NUC) motherboard form factor, the CL100 Series utilizes passive thermal management to cool internal components, allowing for a completely ventless enclosure, keeping out dust and other airborne debris and extending the system's lifespan.



Logic Supply CL100 Mini-PC

"The CL100 is the product of years spent working with Embedded Engineers and Systems Administrators around the world who are looking for a more reliable, easier to install and simpler to maintain computer," says Logic Supply Mechanical Engineer Hans Brakeley. "Fanless systems are quickly becoming the go-to solution for both industrial and consumer computing. The CL100 combines a variety of I/O and impressive processing performance with a small form factor that can go wherever it's needed. We wanted to create a computer that could truly live up to the idea of 'Anything, Anywhere', and we think the CL100 fits that bill."



Designed to offer a versatile computing platform for a wide range of applications including digital signage, interactive kiosks, industrial workstations and even everyday computing desktop replacement, the CL100 features a Quad-Core Intel Celeron N3150 processor with onboard Intel HD Graphics. The system can power triple independent displays or accommodate 4k resolution, making it ideally suited for multimedia installations. Connectivity includes 4 USB 3.0 ports (including one Type C port), 2x HDMI, DisplayPort, and Gb LAN. The CL100 can be configured with up to 16 GB of RAM, up to 512 GB of mSATA solid state storage and is WiFi and Bluetooth capable. Operating system options include both Windows and Ubuntu Linux.



In a recent review, Lawrence Lee from Silent PC Review called the CL100, "possibly the best value you'll currently find for a small, fanless, well-built NUC, equally suited to use at home, office, or a physically demanding environment."



The CL100 utilizes Logic Supply's unique Hardshell™ Fanless Technology, which combines proprietary solid state cooling, ingress protection and ruggedization to create ultra-reliable computer hardware that can stand up to the most challenging manufacturing, data acquisition and Industrial Internet of Things (IIoT) environments.



The CL100 is available now starting at $343.00 from the Logic Supply website by visiting www.logicsupply.com/cl100 or by calling +1 802 861 2300. For more information contact Logic Supply's Hardware Solution Specialists at info@logicsupply.com.



About Logic Supply:

A leading industrial PC company, Logic Supply designs rugged, highly-configurable computers specifically engineered for reliability. In addition to its extensive product line, the company offers custom product development and an end-to-end OEM service program. Logic Supply serves a variety of industrial and embedded markets and has offices in the US, the EU and Taiwan. The company provides a next-generation hardware solution that offers customers speed, dependability, and value. Visit www.logicsupply.com for more information..



Media Contact:

Darek Fanton

35 Thompson St. South Burlington, VT

802-861-7443

marketing@logicsupply.com

Related