AC Motor Controllers and Drives
Fan Drives and Controller reduce fuel consumption and noise.
Press Release Summary: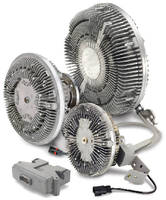 Designed to aid in cooling of hotter-running, reduced-emission engines, VMaster® and Stratis(TM) Di Viscous Fan Drive and Controller systems offer precision, variable-speed performance. Endurance-tested VMaster Di responds rapidly to changing cooling requirements and offers optimized torque transmission and fan idling speed. Stratis Viscous Fan Drives feature reservoir, actuator, and valve system that optimizes response time to increase airflow and cooling.
---
Original Press Release:

Horton Introduces VMaster® and Stratis(TM) Di Viscous Fan Drives and Controller-Economical Variable-Speed Choices that Save Fuel and Reduce Noise



Controller is a new component that is part of these Horton systems

ROSEVILLE, Minn.-Horton, Inc. has introduced VMaster and Stratis Di Viscous Fan Drive and Controller systems-an economical choice for customers who seek the flexibility of variable speed along with optimal engine cooling, reduced fuel consumption, decreased noise and more available horsepower for auxiliary components.

J1939 compatible, the controller combines with Horton's VMaster or Stratis Viscous Fan Drive to complete the plug-and-play Di systems.

"Electronic viscous fan drives have clear benefits over the alternatives-direct drive and hydraulic systems-and we're pleased to be able to provide the controller as well as the fan drive," says Neal Shawaluk, director of sales for off-highway, industrial and specialty markets for Horton, Inc. "Direct drive systems run at full speed 100 percent of the time, unnecessarily consuming fuel, using horsepower and creating fan noise. Hydraulic systems, while variable speed, are expensive to purchase and maintain and can cause safety hazards if they leak hydraulic fluid. Viscous fan drives, on the other hand, are not only economical but also deliver excellent variable-speed performance and maintenance-free operation-all important features in today's economy."

VMaster and Stratis Di Viscous Fan Drives and Controller are compatible with many Horton and competitive 20-inch- to 44-inch-diameter plastic, metal and composite fans.

VMaster Di Viscous Fan Drive and Controller systems offer precision fan control and improved cooling performance. VMaster Di is endurance-tested and responds rapidly to changing cooling requirements, has greater torque transmission and provides optimum fan idling speed. The fan drives are equipped with a double-row bearing for increased durability and longer product life, and feature an improved fluid flow return path for significantly better heat removal and extended product life. VMaster Viscous Fan Drives also feature a rear electrical connection harness shielded from the fan blades. The fan drives are completely sealed and durably constructed with no maintenance.

The Stratis Di Viscous Fan Drive and Controller cools hotter running, reduced-emission engines. Stratis Viscous Fan Drives feature an innovative reservoir, actuator and valve system that deliver faster response time on the front of the fan drive to increase airflow and improve cooling. In addition, the Stratis is equipped with a rear-mounted cable harness. An integral fan speed sensor provides closed-loop control capabilities, and an optimized magnetic design speeds up reaction time for better modulation and cooling. The fan drive's housing and cover feature optimized fins for better heat dissipation.

VMaster and Stratis Di Viscous Fan Drive and Controller are ideal for off-highway equipment, vehicles and buses, including skid steers, truck cranes, cement mixers, refuse trucks, medium-duty trucks, agricultural equipment and generators.

For information, visit www.hortonww.com/Di or call 1-888-813-9926 or +1 651-361-6400.
With more than 55 years of industry experience, commitment to service, reliability and innovation, Horton is a premium worldwide provider of fan drives, fans and suspension products. Horton's comprehensive research and development processes are driven by a dedication to exceed the industry requirements today and in the future. The company has manufacturing plants in the United States and Germany, with a licensed manufacturing facility in Australia and sales offices in the United States, Germany, Russia, South Korea, Mexico, Brazil and Australia. Horton products include VMaster® Viscous Fan Drives, DM Advantage(TM) On/Off and Two-Speed Fan Drives, WindMaster® Fans, Electromagnetic On/Off Fan Drives, DriveMaster® Spring-Engaged Fan Drives, Klondike Series® Replacement Fan Clutches for the Kysor® K26RA as well as repair kits for Kysor's K26RA, K26FA, K22RA and K22FA, Genuine Horton repair kits, remanufactured fan drives and Roller Bushing Suspension Products.

Horton, Inc.
2565 Walnut Street
Roseville, MN 55113
+1 651-361-6400
1-800-621-1320
info@hortonww.com
www.hortonww.com/Di

More from Software