Fan Control System accommodates up to 30 networked fans.
Press Release Summary: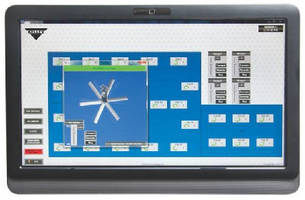 With iFAN(TM) System, facilities can network High Volume Low Speed fans and control them from centralized location. Fans are networked to 23 in. touchscreen computer, complete with custom graphics representing exact fan layout. System can also display tailored variety of performance metrics for each fan, by zone, or for entire facility, which can be archived and viewed later for trend analysis. If fire suppression sprinklers are triggered, Fire Control Panel initiates instant shut down of all fans.
---
Original Press Release:

Kelley® Launches iFAN(TM) to Help Facilities Capture HVLS Large Fan Savings



(Carrollton, TX) - Kelley® announces the launch of their new iFAN(TM) system, designed to provide facilities the option of networking their High Volume Low Speed (HVLS) Fans and controlling them from a centralized location. iFAN, powered by 4SIGHT(TM), was created to ensure maximum performance, functionality and savings from your HVLS large fans.

A single iFAN system can accommodate up to 30 networked HVLS large fans per configuration, and in many cases additional fans can be included depending on the application. The fans are networked to a 23-inch touch screen computer, complete with custom graphics representing the facility's exact fan layout. This screen allows users to immediately and easily make adjustments to all fans or individual fans from a central location with just a single touch. The system can also display a tailored variety of performance metrics for each fan, by zone or for the entire facility which can be archived and viewed later for trend analysis.

The iFAN solution offers full automation, visibility and optimization of a facility's HVLS large fans to ensure maximum performance and cost savings utilizing the following features:

o Centralized controls restrict access to adjust fan settings to only authorized users ensuring fans are running at their optimal speed at each location.

o iFAN allows for additional fans to be networked into an existing system due to facility expansion.

o All iFAN controls are tailored to a customer's specific application needs.

o The ability to troubleshoot from a single location can quickly identify operational issues, provide a user manual to help address the issues or display the contact info for the local service provider.

o iFAN's Fire Control Panel (FCP) technology initiates instant shut down of all HVLS fans when a facility's fire suppression sprinklers are triggered.

For more information on how iFAN can help optimize the performance of your Kelley HVLS large fans, contact your local Kelley representative to schedule a facility survey or visit, www.kelleycompany.com.

News Release

Kelley provides a comprehensive catalog of loading dock solutions including dock levelers, vehicle restraints, dock seals & shelters, ergonomic lift products, environmental control systems and aftermarket dock accessories. Kelley is an industry leading brand owned by 4Front Engineered Solutions.

For more information contact KELLEY at:
sales@kelleycompany.com | 1-877-558-6960 | www.kelleycompany.com

More from Electronic Components & Devices