Failsafe Controller offers bit performance of 1 ns.
Press Release Summary: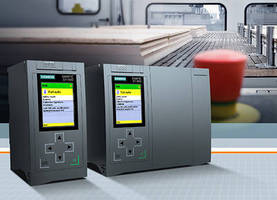 Suited for safety-related applications in machine and plant automation, Simatic S7-1518F Failsafe CPU features 10 MB user memory and variety of communication interfaces, including 2 Profinet interfaces, 1 Profinet with 2-port switch, and 1 Profibus interface. CPU supports connection of up to 128 drive axes and isochronous operation in range of 250 µs. Controller is certified to EN 61508 (2010) for functional safety and suitable for use in safety-relevant applications up to SIL 3.
---
Original Press Release:

Failsafe High-end Controller



Most powerful failsafe CPU Simatic S7-1518F

For high-end standard and safety-related applications

Standardized engineering with Step 7 Safety Advanced V13

Certified for functional safety



The Siemens Industry Automation Division is expanding its new Simatic S7-1500 generation of controllers with the most powerful failsafe CPU so far - the Simatic S7-1518F. The new failsafe CPU is suitable for high-end standard and safety-related applications in machine and plant automation. The Simatic S7-1516F CPU also supplements the range of failsafe CPUs. In the Step 7 Safety Advanced V13 engineering tool, users create their programs by using the same engineering and operating concept for both standard and safety-related tasks. Data consistency functions automatically synchronize standard and safety-related program sections.



The Siemens Industry Automation Division is expanding its new Simatic S7-1500 generation of controllers with the most powerful failsafe CPU so far - the Simatic S7-1518F. The new failsafe CPU is suitable for high-end standard and safety-related applications in machine and plant automation.



The Siemens Industry Automation Division is expanding its new Simatic S7-1500 generation of controllers with the most powerful failsafe CPU so far - the Simatic S7-1518F. The new failsafe CPU is suitable for high-end standard and safety-related applications in machine and plant automation.



Simatic S7-1518F for high-end applications features a 10 MB (megabyte) user memory and has four communication interfaces: a Profinet interface with a 2-port switch for communication with the field level, two Profinet interfaces and one Profibus interface. The high performance and large memory allow connection of up to 128 drive axes and their isochronous operation in the range of 250 microseconds. The CPU 1518F has a bit performance of 1 nanosecond.



The new S7-151xF failsafe controllers are certified to EN 61508 (2010) for functional safety and are suitable for use in safety-relevant applications up to SIL 3 according to IEC 62061 and PL e according to ISO 13849. For IT security an additional password protection has been set up for F-configuration and F-program.



Migration tools are available for the conversion of existing failsafe automation based on Simatic S7300F/400F to the latest controller technology with Simatic S7-151xF: from the Distributed Safety V5.4 engineering tool, for example, to the TIA Portal with Step 7 Safety Advanced V13.



Siemens at the Hannover Messe: www.siemens.com/hannovermesse

For further information, please see www.siemens.com/s7-1500



The Siemens Industry Sector (Erlangen, Germany) is the world's leading supplier of innovative and environmentally friendly automation and drive technology, industrial software and technology-based services. The Sector's comprehensive portfolio covers the entire industrial value chain, from product design, engineering and production to services. Siemens enhances its customers' productivity, efficiency, and flexibility in a wide variety of different industries. With a global workforce of more than 100,000 employees, the Industry Sector comprises the Divisions Industry Automation, Drive Technologies and Customer Services as well as the Business Unit Metals Technologies. For more information, visit http://www.siemens.com/industry



Mr. Gerhard Stauß

Industry Automation Division

Siemens AG

Gleiwitzerstr. 555

90475  Nuremberg

Germany

Tel: +49 (911) 895-7945

gerhard.stauss@siemens.com  

More from Mechanical Power Transmission