FAG Heaters come with intuitive touchscreen.
Press Release Summary: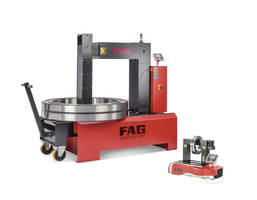 FAG Heaters are equipped with Delta-T control that features two sensors for continuously measuring temperature difference between the inner and outer of the component. These heaters are used in wind power, steel and paper industries and features microprocessor-controlled system. Units consist of bearings with sizes ranging from 15 mm to 2 m. Suitable for heating clutches, gears, and ferromagnetic components, heaters can be started using remote control with a time delay.
---
Original Press Release:
Schaeffler's New FAG HEATER Range Delivers Safety, Heating Efficiency and Reduced Energy Demand for Bearing Mounting
Schaeffler is introducing to Australasia a new generation of FAG HEATER devices, designed for high performance, safe heating operation and intuitive touchscreen technology.
The broad range of new FAG HEATER devices can be used to swiftly and economically heat rolling bearings weighing up to 1.6 tons for mounting and maintenance operations. A broad range of bearing sizes – from bores of 15 millimetres through to outside diameters of up to two meters – can be heated using this range of devices, which includes both table units and floor units.
The new FAG HEATER devices are used in installation and maintenance of bearings across a broad range of industrial machinery, including that used by the mining, energy, wind power, manufacturing, materials handling, steel, and paper industries. Besides conventional rolling bearings, these devices can also be used to heat clutches, gears, and other ferromagnetic components quickly and safely.
With its latest generation of FAG HEATER heating devices, Schaeffler is setting new standards in the mounting of rolling bearings, says Mr Mark Ciechanowicz, Manager - Industrial Services, Schaeffler Australia Pty Ltd.
"These new HEATER devices are equipped with a Delta-T control as standard, which uses two sensors to continuously measure the temperature difference between the inner and outer side of the component being heated during the heating process. Damage caused by preloading in the workpiece is prevented, as the device's output is reduced shortly before a pre-set maximum temperature difference is reached, which gives the heavier outer ring enough time to expand to the required extent. This makes the Delta-T control a particularly safe solution for rolling bearings. The heating process can also be started with a time delay via remote control in order to provide increased safety for the mounting personnel."
Easy to operate
The user-friendly menu is available in over 20 languages. Using the intuitive touchscreen, the user can select from four different heating methods. The system additionally allows the heating process to be documented, favourites lists to be created, and heating curves to be graphically illustrated.
Faster heating saves energy
Optimisations made to the devices' performance capability have increased their efficiency from 0.23 to values of up to 0.9. This reduces the heating time and energy consumption, which in turn means lower operating costs. The even and controlled heating process is made 30 to 50 percent faster by a microprocessor-controlled system of electronics.
About Schaeffler
The Schaeffler Group is a globally active automotive and industrial supplier. Highest quality, outstanding technology, and strong innovative ability represent the basis for the Schaeffler Group's lasting success. Its precision components and systems for engines, transmissions, and chassis as well as rolling and plain bearing solutions for numerous industrial applications make the Schaeffler Group a key contributor to "Mobility for tomorrow". The technology company generated sales of approximately 13.3 billion euros in 2016. With around 86,600 employees, Schaeffler is one of the world's largest companies in family ownership. It has a worldwide network of manufacturing locations, research and development facilities, and sales companies at approximately 170 locations in over 50 countries.
More from Fluid & Gas Flow Equipment