Facing Machine provides rock-faced appearance.
Press Release Summary: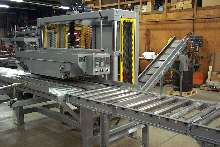 Stone Facer 5000 automated pitching/rock facing machine chisels both top and bottom of concrete products at rate of 40-100 linear fpm. System 5400 incorporates two cutters with tip up mechanism for processing all four sides of block into one processing system. Spring-loaded hold-down conveyor accommodates variation in block heights up to 16 in. Pitching hammers and conveyor are variable speed to create hand-hewn appearance.
---
Original Press Release:
Control Central Inc. Introduces the Stone Facer 5000 and 5400
Control Central Inc. of St.Cloud MN has introduced an automated pitching/rock facing machine for manufacturer's of split faced concrete block and retaining walls. This technology allows you to automate the skills of a stonemasons hammer and chisel to give split faced block and many retaining wall products a more predominant rock faced appearance. The Stone Facer 5000 chisels both the top and bottom of concrete products at an amazing rate of 40 - 100 linear feet per minute. The 5400 system incorporates 2 cutters with a tip up mechanism for processing all 4 sides of block into one processing system. The spring-loaded Hold-Down conveyor easily accommodates variation in block heights up to 16 inches. The pitching hammers and conveyor will be variable speed to create that "hand-hewn" appearance. Control Central Inc. has been in business for over 10 years and their background is in the design and production of one of a kind custom designed equipment. The Stone Facer has a number of options available to your specific needs, from a basic manual operated machine to complete automation for your production line. Visit the company's web site at controlcentralinc.com. Or e-mail sales@controlcentralinc.com
More from Software