Face Shield includes air-purifying respirator.
Press Release Summary: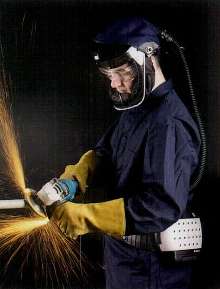 Polycarbonate ClearVisor Face Shield offers wide viewing area while providing workers with protection from high impact hazards. Adflo® powered respirator is used with high efficiency particle filter. System includes brushless motor and Automatic Airflow Control for constant airflow, regardless of battery charge or filter loading. Face shield meets ANSI Z87.1 standards for industrial eye and face protection, and respirator is NIOSH 42 CFR 84 approved.
---
Original Press Release:
ClearVisor with Adflo® Worker Protection System

Industrial Face Shield Combined With Powered Air-Purifying Respirator

The new ClearVisor with Adflo® system combines full eye and face
protection with a slim, lightweight, powered air-purifying
respirator.

The polycarbonate ClearVisor Face Shield has exceptional clarity
and a wide viewing area, while providing workers protection from
high impact hazards.

The system can be used in a variety of industrial settings,
including woodworking, lumber processing, furniture manufacturing, metal grinding, injection molding, plastics, chemical and petrochemical processing, pharmaceutical manufacturing, mining, pulp and paper processing, sanding and refinishing, foundries, spray painting, aggregate processing, cement and stone cutting, milling, grain and feed processing, and other dusty environments.

The Adflo powered air-purifying respirator (PAPR) is used with a
high efficiency (HE) particle filter that can be "stacked" onto an optional Adflo cartridge for additional protection against organic vapors, sulfur dioxide, chlorine and hydrogen chloride fumes.

Additional exclusive features include a brushless motor with three times the design life of traditional motors; Automatic Airflow Control for constant airflow, regardless of battery charge or filter loading; and a ventilated leather belt shaped for maximum freedom of movement and back support.

Continuous application of the optional ClearVisor Clear Window
Strip Off Shielding Film extends the useful service life of the
polycarbonate face shield.

The PAPR's environmentally-friendly NiMH battery provides 12 to 13 hours of operation per charge in the HE configuration and 5.5 to 6 hours of operation per charge in the HE + OV/SD/CL/HC cartridge configuration. The system comes with a smart battery charger that can be plugged-in without danger of overcharging. The charger controls the charging process automatically; batteries are typically charged in 3 hours or less.

The Adflo Turbo filter cover holds and protects the HE particle
filter, a spark arrestor and a particle pre-filter that extends
the life of the HE filter. No tools are needed to remove and
replace any of the system's user-serviceable parts.

The blower's breathing tube port is parallel to the worker's back, so the breathing tube tends to stay closer to the user's body and is less likely to loop outward, where it might catch on
surrounding obstacles.

The ClearVisor Face Shield meets ANSI Z87.1 standards for industrial eye and face protection. Respirator approval is NIOSH
42 CFR 84.

Hornell, Inc., 2374 Edison Blvd., Twinsburg, OH 44087, USA.
Tel: 800-628-9218 or 330-425-8880 Fax: 330-425-4576.
E-mail: info.us@hornell.com Website: www.hornell.com
More from Cleaning Products & Equipment