Face Seal and Flange Adapters suit harsh-duty applications.
Press Release Summary: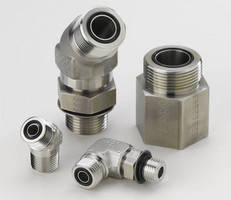 Machined from round stock, flange adapters are hot-piercing bent for desired angle and do not have braze and weld points. Swept configurations enable performance in limited clearance applications and connection sizes range from ½-4 in. Operating in pressures as high as 6,000 psi, SS O-ring face seal fittings are designed to eliminate leaks in hydraulic systems on industrial/commercial equipment. They are available in 23 configurations and in 35 size combinations.
---
Original Press Release:

Brennan Industries Introduces New Stainless Steel O-Ring Face Seal and Flange Adapters



CLEVELAND - Brennan Industries Inc., a leading international supplier of hydraulic fittings and adapters, extends its stainless steel product offering by introducing new stainless steel O-ring face seal and flange adapters. Stainless steel offers a superior corrosion resistance and sealing for critical, harsh-duty applications.

"The new adapters are ideal in facilities alongside stainless steel instrumentation fittings and flareless bite-type fittings, as well as with other NPT and JIC products," said Bill Jarrell, vice president of marketing and procurement at Brennan Industries. "The new O-ring face seal and flange adapters are an important addition to our stainless steel offerings."

Machined from round stock, Brennan Industries flange adapters are hot-piercing bent for the desired angle and do not have braze and weld points. Swept configurations allow Brennan Industries flange adapters to perform in limited clearance application situations, while their construction enables them to endure extremely high working pressures and tensile strength. Brennan flange adapters range in connection sizes from 1/2 to 4 inches.

O-ring face seal fittings eliminate leaks in hydraulic systems, while permitting operating pressures as high as 6,000 psi. Developed for hydraulic systems on both industrial and commercial equipment, the product line is available in 23 different configurations, and in 35 different size combinations.

Brennan Industries' O-ring face seal fittings are designed specifically for applications where elastomeric seals are acceptable to overcome leakage and variations in assembly procedures. The fittings can easily be connected to a range of tubing grades by silver brazing. In addition, the fittings can easily be disassembled and reassembled.

About Brennan Industries

Supplying a wide range of industries throughout the world, Brennan Industries offers more than 25,000 standard and special hydraulic fittings and adapters in sizes ranging from 1/8 to 2 ½ inches. These include a wide choice of fitting and adapter types such as tube, O-ring face seal, instrumentation, metric bite type, push-to-connect, conversion and flareless bite type. Brennan Industries also offers valves, clamps and swivels. Most products are available in carbon steel, stainless steel and brass, and meet or exceed J.I.C., S.A.E. and other specification.

Brennan products are stocked at six strategically located, full-service distribution centers in: Atlanta, Cleveland, Dallas, Los Angeles, Seattle and Toronto.

For more information, contact: Brennan Industries Inc., 6701 Cochran Road, Cleveland, OH 44139. Phone: (440) 248-1880. Toll free: (888) 331-1523. E-mail: sales@brennaninc.com. Fax: (440) 248-7282. www.brennaninc.com.

Please send all inquiries to Bill Jarrell, Brennan Industries, 6701 Cochran Road, Solon, OH 44139

Related