Fabrico Converts Advanced Gasket Materials for Weatherproof Applications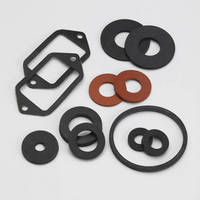 Kennesaw, GA - Fabrico, a leader in industrial materials and adhesives, announces weatherproof gasket converting capabilities for a wide range of outdoor applications requiring protection from heat, dirt, dust, rain, ice, and snow.

Understanding the environmental conditions a gasket must face is critical in selecting the best material, adhesive, and gasket design for an application. Fabrico manufactures custom weatherproof gaskets that seal critical components in HVAC installations, LED outdoor lighting, automotive applications, electrical enclosures, door locks and entry pads, and solar junction boxes, inverters, and other "connect-to-grid" components.

Fabrico can identify the best gasket material, whether silicone, neoprene, urethane, or EPDM (ethylene propylene diene monomer) to deliver the characteristics required for a specific application. With a complete materials and adhesive test lab, Fabrico ensures a perfect match of materials to the application.

Fabrico provides custom gasket design, prototyping, precision die-cutting, slitting and rewinding, water jet cutting, ultrasonic welding, and creasing/cuffing to close tolerances.

For example, Fabrico recently created a custom neoprene gasket for a door lock and keypad to an enclosure housing sensitive test equipment. The gasket resists water absorption, withstands temperatures form -40°F to +180°F, and retains its elasticity.

The neoprene gasket was die-cut with a rubber adhesive and liner for easy application in the field.

For more information on what Fabrico offers in custom gasket capabilities, visit us at www.fabrico.com/markets-applications-gaskets.htm.

About Fabrico

Fabrico is the market leader in design and manufacturing services for flexible materials. Fabrico has developed a track record of solving unique challenges and providing sound customer solutions. The company offers a wide range of custom fabrication services including product engineering, material sourcing, prototyping, converting, laminating, complex printing, custom die cutting, rotary die cutting, water jet cutting, laser cutting, assembly, and performance packaging. Fabrico is located in Kennesaw, GA, USA and is a division of EIS. More information is available at www.fabrico.com or by calling 800-351-8273.
Fabrico is a trademark of EIS, Inc.


Related