F2P Industries Creates Groundbreaking CBD Product Line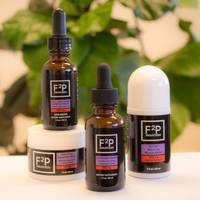 [DENVER, COLORADO] With the dramatic rise in the popularity of CBD, innovation is booming. Colorado-based F2P Industries has just entered the market in a big way with the launch of a powerhouse lineup of CBD products that address aches, pain, inflammation, anxiety and digestive disorders.
F2P Industries is focused on creating products that are effective, natural, empowering, consistently reliable and unquestionably life-changing. Between the company's commitment to sustainability and its use of third-party lab testing to ensure the purity and potency of every product, F2P is bringing a whole new level of trustworthiness and efficacy to the CBD world.
There are currently over 300 studies across the US on the incredible results of CBD, from exploring applications for serious illnesses to relief for the pains that come with strenuous activity, arthritis and aging. F2P has taken some of this research, along with other prestigious studies from around the world on essential oils, to create products that deliver profound results.
When asked about why the company's rigorous standards, CEO Julie Howell emphasized her vision to create products that truly make a difference in people's lives. "It's the right thing to do. We're here to change lives, and that means using the best ingredients and processes at every step. All of our products are organic, pesticide free and gluten free."
F2P hopes to educate and empower people with its informative website, knowledgeable customer service team and high-quality products. "This is more than just another wellness fad," explains Howell. "People deserve to feel good and enjoy their lives to the fullest, and our products are here to help."
Here's a preview of F2P's four flagship products:
Lemon Liposomal Drops
This deliciously citrusy tincture is different from anything else on the market and ideal for people new to CBD. It's recommended for aches, pain, anxiety, inflammation and digestive issues. The tincture was designed to absorb under the tongue, allowing for more of the CBD to be ingested into the bloodstream than with standard tinctures. People love the great taste as much as the soothing results.
Deep Relief Roll-On
Designed with a powerful array of essential oils that enhance the effect of the natural CBD oil, this roll-on product supports people with persistent and severe joint and muscle pain. It's a real game-changer for athletes and people who work out a lot. Within moments of application, this formula soaks into the skin and offers a warming sensation while addressing deep tension. Early adopters have marveled at how it has helped them recover quickly after workouts and even from sprains and other injuries, without the need for painkillers.
Lavender Balm
F2P's Lavender Balm is designed to help people seeking pain relief or relaxation. It's like "a massage in a jar." Named for its lovely lavender aroma, the balm actually contains beeswax and a wide selection of essential oils for added effect. Fans of this product share that they have added it to their daily routines, helping them face challenging days with calm and comfort.
Pet Drops
This product was designed to help older pets regain their playful routines as well to help anxious pets relax in times of stress or separation. Perfect for dogs, cats or even smaller pets like guinea pigs, the tincture can be easily placed in food, water or even directly into pet's mouths. It's amazing to see how the tincture helps calm younger pets and helps older pets regain that bounce in their step like when they were young.
F2P Industries is based in Colorado, where some of the country's best hemp farms are located. Working only with certified farms and using rigorous testing to create exceptional products, the company looks forward to helping more and more people improve their quality of life with CBD.
To learn more about F2P Industries and its new product lineup, visit www.f2pcbd.com, email info@f2pcbd.com or call 720-295-7501.
More from Electrical Equipment & Systems