ezEX-RJ45™ Termination System meets FCC, RoHS 2 and UL standards.
Press Release Summary: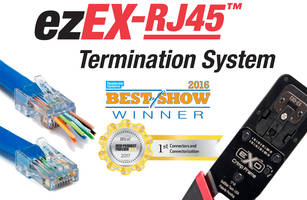 Featuring grip TPR handles and conductors with Hi-Lo stagger of conductors, ezEX-RJ45™ Termination System works with 24-22 AWG stranded conductors. Featuring ezEX™44 and ezEX™48 connector insulation with diameters ranging in 1.0 –1.12mm and 1.09 – 1.22mm respectively, product is rated up to 10 Gigabit and has 0.29 in. outer diameter. ezEX-RJ45™ Termination System comes with EXO Crimp Frame™.
---
Original Press Release:
Platinum Tools® Features Next Generation ezEX-RJ45™ Termination System at 2017 ISC West
Now Shipping, the Patented ezEX-RJ45 System Provides a Modular Solution to Make the Termination of Larger Diameter Twisted-Pair Cables Easy and Error-Free
Platinum Tools® (www.platinumtools.com), the leader in solutions for the preparation, installation, hand termination and testing of wire and cable, is proud to feature the next generation termination system during ISC West 2017, held in Las Vegas, Nev. from April 5-7 at the Sands Expo and Convention Center, booth #6035. The winner of Residential Systems "Best of Show" CEDIA 2016 award and the 2017 BICSI Winter Conference Winner for Connectors and Connectorization, the ezEX-RJ45™ Termination System with the new EXO CrimpFrame™ is now shipping.
The new patented EXO Crimp Frame™ is a RJ45 crimp tool that can terminate multiple sizes of cables and conductors. The crimp frame highlights two interchangeable dies that work with EZ-RJ45® and ezEX-RJ45™ connectors. The tool design allows for future upgrades by purchasing a new die.
The new ezEX-RJ45 feed-through connectors with staggered channels matched with the new EXO Crimp Frame + EXO-EX Die are specifically designed to crimp and flush-trim the protruding conductors in a single operation. This patented new termination system couples two concurrently developed and matched solutions for terminating larger cables.
"In today's networks, twisted pair cables are demanding more speed and bandwidth," explained John Phillips, Platinum Tools, Inc. product manager. "To help meet these requirements, Cat5e/6/6A cables have increased in size. Both the outer diameter of the cable and the insulation diameter of the conductors are larger and vary by manufacturer, making cable and connector compatibility a challenge. Platinum Tools new patented ezEX-RJ45™ Termination System is the solution…providing greater cable to connector compatibility to meet higher performance demands."
Phillips continued, "The EZ-RJ45® Die gives you the ability to terminate EZ-RJ45 connectors, and the EXO-EX™ Die terminates the new and improved ezEX-RJ45™ connectors. The ezEX-RJ45™ connectors are designed for larger cables and conductors with a Hi-Lo stagger of conductors, one piece/pass through, and no bars or liners resulting in high performance termination.
Features and specifications of the ezEX-RJ45™ Connectors include:
Simple one piece/pass through design, no bars or liners
Hi Lo staggered load bar
Rated up to 10 Gigabit for superior performance
Works with solid or stranded conductors from 24-22 AWG
Max Outer Diameter of .290 in. (7.36mm)
ezEX™44 Connector Insulation Diameter

Size range of .039 - .044 in. (1.0 –1.12mm)

ezEX™48 Connector Insulation Diameter

Size range of .043 - .048 in. (1.09 – 1.22mm)

FCC, RoHS 2 & UL compliant
Made in USA
Features and specifications of the EXO Crimp Frame and Dies include:
Single cycle crimp and flush trim
Dies are easily interchangeable
Reversible Die for ambidextrous operation
Connectors lock into tool for correct positioning during crimp
Push button lock for easy storage
Ergonomic comfort grip TPR handles
EXO-EX™ Die for crimping ezEX™44 and ezEX™48 connectors
Terminates larger cables and conductors Cat6 and Cat6A
EZ-RJ45® Die for crimping EZ-RJ45® Connectors
"Current modular connectors for larger diameter cables require multiple pieces that can get lost, are difficult to prep, and are very difficult to verify wiring sequence which leads to improper terminations and scrap," Phillips added. "The ezEX-RJ45 connector and EXO Crimp Frame and EXO-EX Die system minimize the cost of operation for the installer by eliminating mistakes in crimping and downtime."
The included EXO Crimp Frame feature stool-less replacement of dies to minimize down times due to damaged or worn dies. Interchangeable and ambidextrous dies for left and right-handed operation, clean and precise flush-cut connectors. The connector tab locks into the die port for one-handed operation and ensures that the connector is locked in place for proper crimping. Push button gun-style lock (patented) for easy storage, and the precisely aligned contact drivers provide reliable and repeatable crimping.
"The ezEX-RJ45 termination system is versatile, rugged and precise," Phillips concluded. "It is the only system that makes terminating larger cables EZ!"
For additional pricing and more information on Platinum Tools and its complete product line, please visit www.platinumtools.com, call (800) 749-5783, or email [email protected].
About Platinum Tools
Platinum Tools, founded in 1997, was created based upon two very simple objectives. First, develop the absolute best possible solutions for the preparation, installation, and hand termination of wire and cable. Second, implement an operational infrastructure that can deliver these products in an efficient, timely, and high quality manner.
All of our products must absolutely satisfy three critical benchmark criteria…utility of function; quality of function; and economic value. Our people are our company. They, too, must be focused on and work to satisfy three critical benchmark criteria…customer satisfaction; product knowledge and expertise; and willingness to learn and adapt.
Platinum Tools
California, USA
T: 800-749-5783