Eye Tracking Glasses incorporate live, wireless control.
Press Release Summary: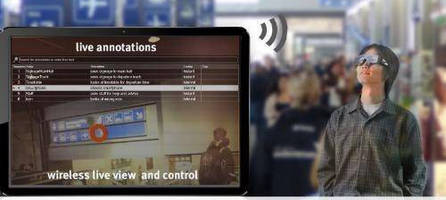 Available with application modules for Virtual Reality, Cognitive Workload, Shopper Insight, and Neuromarketing studies, SMI Eye Tracking Glasses 2 Wireless (SMI ETG 2w) features 60 Hz eye tracking and Android smart recorder for 4+ hr data collection. Product can be controlled via Wi-Fi® from Windows® device, and live annotations can be made wirelessly during recording on controlling device. Also, SMI BeGaze analysis software allows focus on relevant sequences and events within recording.
---
Original Press Release:

SMI Launches SMI Eye Tracking Glasses 2 Wireless: Wearable 60 Hz Eye Tracking with Full Wireless Control



BERLIN, Germany -- SensoMotoric Instruments (SMI) introduces the next stage of their leading mobile eye tracking technology with full wireless control, enhanced productivity plus application modules for Virtual Reality, Shopper Insight and Neuromarketing



The new SMI Eye Tracking Glasses 2 Wireless (SMI ETG 2w) [http://www.eyetracking-glasses.com/products/eye-tracking-glasses-2-wireless/technology come with wireless live capabilities for complete remote control of a study and a lightweight Android smart recorder allowing 4hrs+ data collection time. The SMI ETG 2w can be fully controlled via Wi-Fi from a Windows device like a laptop or tablet. For even better mobility and productivity, live annotations can be made wirelessly during recording on the controlling device. SMI BeGaze analysis software then allows to efficiently focus on relevant sequences and events within the recording. Live assessment of specific tasks is highly valuable and increases efficiency and mobility in sports, safety, medicine and other training applications, in shopper and packaging studies, in car clinics and psychology research. SMI offers SMI ETG 2w packages [http://www.eyetracking-glasses.com/products/sales-packages/comparison tailored to specific uses starting at 9,900 Euro.



Join our webinars on July 3 and learn more at: http://www.eyetracking-glasses.com



View photo:

https://www.flickr.com/photos/smieyetracking/14325152560/



SMI ETG 2 already gained the confidence of best in class research institutes (Stanford University, Max Planck Institute, Shanghai National University) and corporate innovators (Google, Microsoft, Sony). The device and its robust 60Hz eye tracking have been proven with more than 100,000 participants. The versatile tool offers specific application modules, e.g. for Virtual Reality, Cognitive Workload, Shopper Insight and Neuromarketing studies. SMI's mobile eye tracking platform comes with an SDK which supports real-time data streaming and is used for integrations with leading head-mounted display technology and smart glasses applications. SMI also offers a new multi-user option for SMI Semantic Gaze Mapping, SMI's patent pending fixation mapping technology which has significantly increased the efficiency of mobile eye tracking analysis [http://www.eyetracking-glasses.com/products/eye-tracking-glasses-2-wireless/analysis . While the SMI ETG 2w already works with many vision correction spectacles, now SMI launches a snap-on solution with corrective lenses to cover a maximum of users.



Michael Hildebrandt , Senior Scientist, Industrial Psychology Division, Institute for Energy Technology / OECD Halden Reactor Project: "We have been using the SMI Eye Tracking Glasses for Human Factors studies in the Halden Human-Machine Laboratory, a full-scale nuclear power plant control room simulator. We collected more than 70 hours of eye tracking data on information-gathering strategies from nine participating operator crews. The equipment performed flawlessly, even in long recording sessions of up to 2.5 hours. Another important benefit of the SMI system for day-to-day use is that we can fit the system on the participant, calibrate it, and start the recording within a very short time."



Mary Ann Shinnick, PhD, ACNP, Assistant Professor In-Residence, Director of the Nursing Education Simulation Laboratory, UCLASchool of Nursing and Mary A. Woo, Professor - UCLA School of Nursing: "SMI Eye Tracking Glasses 2 Wireless is a very useful tool for our nursing education program as well as for multidisciplinary UCLA research projects on attention and cognitive assessment of patients. The wireless equipment, with the option to annotate important events, and the video capture of precisely what the subject was viewing is valuable in measuring performance in either lab or clinical settings."



Dr. Arnd Rose, Product Manager, SensoMotoric Instruments: "SMI Eye Tracking Glasses 2 is the leading mobile eye tracking platform on the market which has been proven in more than 100,000 participant recordings. Customers report successful tracking for 95 out of 100 participants in very dynamic situations and setup in less than 1min. We have achieved this robustness and operational productivity by automating all critical aspects of mobile eye tracking based on our more than 20 years experience in the field."



Join our webinars: "Introduction to SMI Eye Tracking Glasses 2 Wireless"



Thursday, July 3 at 9:00 a.m. CET (3:00 p.m. CST) and at 6:00 p.m. CET (9:00 a.m. PDT)

Register for free athttp://www.eyetracking-glasses.com 



More about SMI Eye Tracking Glasses 2 Wireless:http://www.eyetracking-glasses.com



More about SensoMotoric Instruments (SMI):http://www.smivision.com



SMI on Facebook: http://www.facebook.com/smieyetracking



SMI on Twitter: http://www.twitter.com/smieyetracking



SMI on Flickr: http://www.flickr.com/smieyetracking



SMI on YouTube: http://www.youtube.com/smieyetracking



Contact SMI:  Stefanie Gehrke, Marcom Manager,stefanie.gehrke@smi.de

Geschaeftsfuehrer / Managing Director Dipl.-Ing. Eberhard Schmidt, Amtsgericht Potsdam

HRB 22447 P; VAT-No.: DE 26650 8899

SensoMotoric Instruments GmbH,

Warthestrasse 21,

14513 Teltow,

Germany

Phone  : +49-(0)3328-3955-00

Fax    : +49-(0)3328-3955-99

WEB    : www.smivision.com

E-Mail : info@smivision.de

More from Controls & Controllers