Extrusion System includes screen changer and melt pump.
Press Release Summary: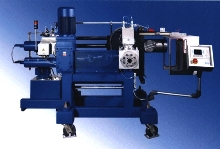 Extrusion/Filtration System, designed for polypropylene co-extruded flat film production, utilizes RS Series back-flush screen changer combined with GPE Series melt pump to provide 700 kg/hr extrusion output and 31 micrometer particle size filtration. Automatic air ventilation action of changer and metering effect of pump provide ability to run production through back-flush and screen change with no loss in quality. Screen includes profibus connections.
---
Original Press Release:
KREYENBORG Integrated System Consisting of Backflush Screen Changer and Extrusion Gear Pump for Film Production

With their innovative product line, The KREYENBORG Group has secured its place among the world's leading manufacturers of plastics extrusion equipment. The KREYENBORG name has become associated with reliable, high performance solutions built to the tightest quality standards.

KREYENBORG is currently involved in a project for Polypropylene co-extruded flat film. Maintaining strict gauging tolerances and high visible clarity are critical in the final film product.
The material is extruded, filtered and run through a slot die. For further process stability, a KREYENBORG melt pump was installed to guarantee pressure consistency at the die.

Process Parameters:

- 700 kg/hr extrusion output

- 31 micrometer particle size filtration

- Long screen life

- Minimal operator input

- Strict gauge control and special visible clarity of film

The performance of the KREYENBORG back-flush screen changer far exceeded the customers' expectations in processing of different materials and has proven absolutely precise and very effective. Through repeated back-flush sequences, the filtration system demonstrated its ability to regain the desired differential pressure under production conditions. The automatic air ventilation action of the RS series screen changer and the metering effect of the GPE series melt pump provide the ability to run production through back-flush and screen change with no loss in quality. As part of this project development special screen packs with an innovative weave structure are being tested to significantly increase the clarity of the film.

As announced at K'2001, KREYENBORG back-flush screen changers are now fitted with our new profibus connections. Advantages of profibus are lower wiring costs and higher serviceability of the machines as well as cost savings in engineering and start-up.

For more information and/or a reference about a representative in your area, contact Kreyenborg Industries, 720 Raco Drive, Lawrenceville, GA 30045, phone 770-339-4177, fax 770-513-9173 or on the Internet at www.kreyenborg.com or info@kreyenborg-group.com (e-mail)
More from Computer Hardware & Peripherals