Extrusion/Materials Package offers 1-step pipe production.
Press Release Summary: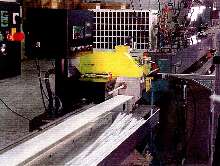 Extrusion Package utilizes silane liquid blend, which is absorbed on porous resin during material feeding and introduced with main resin to extruder, allowing for continuous formation of extruded pipe. System includes 3-component drying system, 4-component dosing station, 75 mm 32:1 air cooled extruder with feedscrew and 1.5 L/D grooved feed section, 25 ft vacuum tank, 25 ft spray tank, puller/cutter, cutter/blow-off and OD/wall measurement. Line outputs 80 fpm at 225 lb of material/hr.
---
Original Press Release:

Davis-Standard Symposium Introduces PEX Pipe Extrusion/Materials Package


Davis-Standard, OSi and Constab First to Offer One-Step PEX Technology in North America

(Pawcatuck, Conn.)-A highly successful PEX tubing/pipe symposium held at Davis-Standard's headquarters in Pawcatuck, Connecticut, on November 21 officially introduced the first commercially available one-step PEX equipment and materials package in North America. The symposium, co-presented by Davis-Standard, OSi Specialties and Constab, featured a running mono-layer tubing line processing an innovative resin and silane formulation for the production of 1/2-inch (1 3mm) PEX pipe. This new Spherisil® One-Step Process is an innovative combination of the raw materials and equipment technology needed for one-step PEX pipe production. The symposium drew more than 60 visitors representing 25 North American companies, and included speakers from Davis-Standard, OSi, Constab, iNOEX and Gastec Technology.

The demonstration showcased an innovative one-step technology that significantly reduces the cost of making PEX pipe, an increasingly popular alternative for potable water and radiant heating piping applications. Key to this technology is OSi's silane liquid blend, which is absorbed on a porous resin during the material feeding process and introduced with the main resin to the extruder. This makes it possible to combine raw materials and the grafting reaction into a single-step process, allowing for the continuous formation of extruded pipe. It also permits low and consistent silane dosing for a homogenous blend. This method of silane crosslinking offers several processing advantages including high line speed and low energy costs, formulation flexibility, reduced operating costs and uniform crosslinking.

The system's extrusion components included a three component drying system; four component dosing station for both polymer and liquid additives; 75mm 32:1 air cooled extruder with DSB®-V feedscrew and 1.5 L/D grooved feed section; a 25-foot (7.6m) vacuum tank with contact sizing; 25-foot (7.6m) spray tank; puller/cutter; cutter/blow-off; and OD/wall measurement. The line produced outputs of 80 feet per minute (24 m/min) at a processing rate of 225 pounds (102 kg) of material per hour. Davis-Standard can supply systems for processing PEX pipe in larger diameters.

Davis-Standard is the first company in the U.S. to launch a PEX platform of this magnitude. The synergy involved in this equipment and materials package is especially unique since Davis-Standard and OSi are both owned by the Crompton Corporation. For more information, contact Jim Murphy at jmurphy@davis-standard.com.

More from Test & Measurement