Extrusion Coating Die facilitates changes in product width.
Press Release Summary: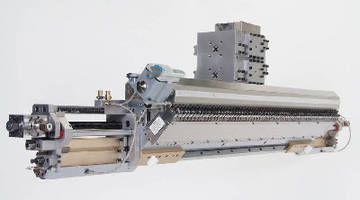 Available with external cooling option, EPC(TM) Die incorporates deckle system that can be adjusted to minimize formation of edge bead, which wastes polymer and substrate as it is trimmed from web. External deckle prevents leakage, while internal deckle has independently adjustable components that seal off ports of internal flow channel. To clean away carbonized polymer that causes die lines, operators can retract external and die-gap deckle components and insert brass scraper.
---
Original Press Release:

Innovations on Edge Bead-Reducing Die for Extrusion Coating Yield Big Decreases in Downtime for Width Changes and Cleaning



CHICAGO, - A new generation of the widely used EPC(TM) extrusion coating die from Extrusion Dies Industries, LLC (EDI) increases productivity by simplifying changes in product width and eliminating much of the deckle disassembly involved in cleaning and maintenance, the company announced today at CPP Expo (Booth 9021).

As in the past, the EPC die incorporates a deckle system that can be adjusted to minimize the formation of edge bead, which wastes polymer and substrate as it is trimmed from the web. "What is innovative in the new-generation EPC die is an extensive enhancement of the deckle system that increases the ease and repeatability of width adjustments, simplifies clean-out of carbonized polymer buildup in the die, and makes possible rapid removal of the entire deckle assembly for a 'split and clean,' or complete opening of the die for maintenance," said Gary D. Oliver, vice president of technology and engineering.

Deckles are mounted at either end of a die and used for varying the width of the coating. The EPC die includes an external deckle to prevent leakage and an internal deckle system with independently adjustable components that seal off portions of the internal flow channel and can be positioned to minimize edge bead.

The new-generation EPC die includes innovations that reduce downtime in four ways:


Rapid and accurate changes in width. A more robust support structure and drive mechanism for the deckle ensures a more stable and repeatable width-adjustment system. Changes in width are carried out by means of a single movement of the entire assembly of deckle components. Once those components have been adjusted to obtain the desired edge-bead profile for a polymer, that setting is preserved without variation through repeated changes in width.


Easily inserted scraper to removed buildup. Operators can now quickly retract the
external and die-gap deckle components and insert a simple brass scraper that cleans away carbonized polymer that causes die lines. In the past it was impossible to remove such buildup upstream of the lips without complete disassembly, but the new scraper reaches beyond the lip opening and into the secondary manifold of the die.


Ready access for replacing seals and adjusting die gap. In the past, much of the deckle had to be disassembled to make it possible to replace end seals. The redesign of the EPC die makes it possible to carry out these tasks quickly and easily, without dealing with numerous fasteners and handling heavy deckle components.


Fast removal of deckle system for 'split and clean.' It is now possible to open the die without completely disassembling the deckles at either end. Instead, each deckle assembly can be removed intact by unfastening four bolts.

Another innovation is optional: External cooling by forced air makes it possible to cool end seals and deckle components.

How the EPC(TM) Die Minimizes Edge Bead Formation

Internal deckle systems used for fine-tuning the edge profile of a coating are effective because of the tendency of molten polymer to exhibit transverse flow if lateral barriers to flow are removed at the die exit. In the EPC die, the internal deckle components for adjusting the edge bead profile are located downstream of the primary manifold-one in the preland section, the second in the secondary manifold. By adjusting the positions of these components relative to one another, it is possible to reduce the flow of polymer at the extreme edges of the coating, thereby minimizing edge bead.

EXTRUSION DIES INDUSTRIES, LLC is a leading international supplier of flat dies for sheet, film, extrusion coating, fluid coating, and pelletizing. The company designs and manufactures dies, feedblocks, deckling systems, vacuum boxes, and related equipment. Its subsidiaries include EDI GmbH in Reichshof-Wehnrath, Germany, and EDI China in Shanghai. In the U.S.A., Germany, and China, EDI operates facilities dedicated to reworking its own dies and those built by other suppliers, and it has licensed a fourth rework facility in Japan. Headquartered in Chippewa Falls, Wisconsin, U.S.A., EDI is focused on supplying the global market. Visit www.extrusiondies.com and www.reworkdies.com. E-mail: sales@extrusiondies.com.

Related