Extrusion and Calendering Line handles pharmaceutical substances.
Press Release Summary: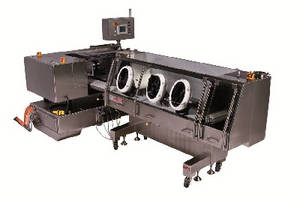 Featuring modular, customizable design, Pharmaceutical Melt Extrusion and Calendering Line includes Pharma Extruder WCF 0040PH, which continually processes substrate with active ingredients through melting, mixing, kneading, aerating, tempering, and forming stages. Mass is extruded to Pharma Calender BPK 0050, ensuring accurate forming of tablets by using dual rollers with forming cavities. Pharma Cooling Tunnel BCK 0050 cools by means of contact cooling from below transport belt.
---
Original Press Release:

Bosch Launches New Integrated Pharmaceutical Melt Extrusion and Calendering Line

Improved bioavailability for poorly soluble ingredients

One equipment supplier for the entire line

Fully scalable and customizable to meet manufacturer needs

Bosch Packaging Technology presents its new fully integrated Pharmaceutical Melt Extrusion and Calendering Line featuring a continuous production process for pharmaceutical substances. Melt extrusion as a drug production method is growing in popularity due to its ability to improve drug delivery effectiveness. Using this technology, poorly soluble drugs with low bioavailability can be administered in tablet or granulate formats. Efficient production and cost savings are additional benefits as there is no need for additives such as solvents or drying processes.

With the launch of Bosch's Melt Extrusion and Calendering Line, pharmaceutical manufacturers can now procure extrusion, calendering and cooling equipment from one supplier. Equipment in the Bosch line is operated with the same interface and software for ease-of-use and efficiency benefits, and meets all Good Manufacturing Practice (GMP) standards.

Due to the modular structure of the line from Bosch, manufacturers are able to customize the extrusion and forming equipment including temperature and pressure requirements. It can enable direct shaping of pills or oblong shapes, or alternatively pelletizing with granulation head technology. Bosch's line is able to be used in laboratories as well as for customized scale ups, and can be designed for contained or non-contained environments.

Included in the Melt Extrusion line is Bosch's Pharma Extruder WCF 0040PH, which continually processes the substrate with active ingredients through the melting, mixing, kneading, aerating, tempering and forming stages. With variable screw geometries and lengths, the machine can be easily adapted to handle a range of material behaviors.

The mass is extruded to the Pharma Calender BPK 0050, ensuring accurate forming of tablets by using dual rollers with forming cavities. The line also includes the Phama Cooling Tunnel BCK 0050, which cools by means of contact cooling from below the transport belt through a double wall stainless steel chamber. It enables dust control with an advanced aspiration system for worker safety and compliance.

"More and more pharmaceutical manufacturers are looking at melt extrusion as an effective way to produce new and existing drugs. Now, for the first time, these manufacturers can buy one integrated line for extrusion, calendaring and cooling," said Frank Jansen, Product Manager, Bosch Packaging Technology.

The Bosch division Packaging Technology, based in Waiblingen (Germany), is one of the leading suppliers in the field of processing and packaging technology. In more than 15 countries worldwide it develops and produces complete solutions for the pharmaceutical, food and confectionery industries. The comprehensive service portfolio completes the package. The worldwide sales and service network offers local contacts. More information at www.boschpackaging.com.

The Bosch Group is a leading global supplier of technology and services. In the areas of automotive and industrial technology, consumer goods, and building technology, some 285,000 associates generated sales of 47.3 billion euros in fiscal 2010. For 2011, the company forecasts sales of more than 50 billion euros and a headcount of a good 300,000 by the end of the year. The Bosch Group comprises Robert Bosch GmbH and its more than 350 subsidiaries and regional companies in over 60 countries. If its sales and service partners are included, then Bosch is represented in roughly 150 countries. This worldwide development, manufacturing, and sales network is the foundation for further growth. Bosch spent 3.8 billion euros for research and development in 2010, and applied for over 3,800 patents worldwide. With all its products and services, Bosch enhances the quality of life by providing solutions which are both innovative and beneficial.

Bosch is celebrating its 125th anniversary in 2011. The company was set up in Stuttgart in 1886 by Robert Bosch (1861-1942) as a ¡§Workshop for Precision Mechanics and Electrical Engineering.¡¨ The special ownership structure of Robert Bosch GmbH guarantees the entrepreneurial freedom of the Bosch Group, making it possible for the company to plan over the long term and to undertake significant up-front investments in the safeguarding of its future. Ninety-two percent of the share capital of Robert Bosch GmbH is held by Robert Bosch Stiftung GmbH, a charitable foundation. The majority of voting rights are held by Robert Bosch Industrietreuhand KG, an industrial trust. The entrepreneurial ownership functions are carried out by the trust. The remaining shares are held by the Bosch family and by Robert Bosch GmbH.

Additional information can be accessed at www.bosch.com, www.bosch-press.com, and www.125.bosch.com.

More from Electrical Equipment & Systems