Extruded PE Foam Plank targets packaging applications.
Press Release Summary: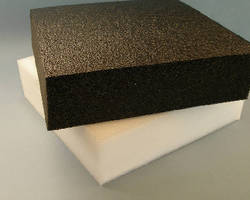 Available in 48 in. width and 3 in. thickness, PolyPlank® EXT single cross section, polyethylene foam plank is produced via extrusion process, which creates homogeneous foam product with dimensional stability. Closed-cell structure makes it buoyant, virtually impermeable to water, and resistant to water vapor transmission. Available in 1.7 or 2.2 lb densities, product can be die cut, heat-sealed, welded, glued, saw cut, split, skived, water jet cut, routed, and drilled to specifications.
---
Original Press Release:

Pregis Adds 3-Inch Size to Polyplank® EXT, Extruded PE Foam Plank Line



Deerfield, Ill., - Pregis Corp. has added a 3-inch thick offering to its PolyPlank® EXT extruded foam plank line. The new size gives fabricators more flexibility in creating custom laminated structures for a broad variety of applications.

Premium grade PolyPlank EXT single cross section, polyethylene foam plank is produced via an extrusion process which creates a homogeneous foam product with excellent dimensional stability. This provides easier and more precise fabrication.
The new size comes in 48-inch width and is a companion to the 1- and 2-inch thick sizes previously available. The line addition will help minimize the number of layers needed to create thicker structures. (All three are available in either 1.7- or 2.2-pound densities.)

"Some fabricators work with pieces that end up being 10- or 12-inches thick depending on the specific application. Adding a 3-inch plank size means fewer layers and lamination seams, which helps minimize fabrication problems," explains Tony Smith, general manager, engineered products, Pregis.

PolyPlank® EXT is ideal for packaging applications such as industrial parts, appliances, aircraft components, marine parts, industrial equipment, furniture and consumer electronics.

The foam plank can be easily fabricated into any desired shape using conventional tools. It can be die cut, heat-sealed, welded, glued, saw cut, split, skived, water jet cut, routed and drilled to precise specifications.

PolyPlank's closed-cell structure makes it virtually impermeable to water, exceptionally buoyant and highly resistant to water vapor transmission. It is extremely resilient, quickly springing back into shape after multiple compressions. It also offers superior protection for painted or delicate surfaces.

About Pregis:

Pregis Corporation is a leading global provider of innovative protective, flexible, and foodservice packaging and hospital supply products. The company offers packaging and product solutions for a wide variety of consumer and industrial market segments including food and foodservice, healthcare, agriculture, automotive, furniture, electronics, construction, fulfillment, catalog and military/aerospace. The specialty-packaging leader currently operates 47 facilities in 18 countries around the world. For more information about Pregis, visit www.pregis.com.

Please forward sales inquiries to:

Pregis Corp.

1650 Lake Cook Road, Ste. 400

Deerfield, IL 60015

Phone: (877) 692-6163

Email: protectivesales@pregis.com