Extreme-Duty Adhesive Cable Mounts are resistant to UV exposure.
Press Release Summary: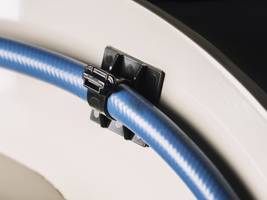 Made from PA66 blend which is resistant to heat and impact exposure, Extreme-Duty Adhesive Cable Mounts feature exceptional durability 3M™ VHB™ adhesive. Standard cable ties are available in 3 sizes between 3.6 and 8.9mm width and Wide Strap Cable Tie in 12.7mm width. Units are used for attaching cables and wire bundles.
---
Original Press Release:
HellermannTyton Introduces Extreme-Duty Adhesive Cable Mounts
Ideal for applications subject to constant agitation or jarring motions
HellermannTyton announces a new line of extreme-duty adhesive mounts designed to attach cable and wire bundles with extraordinary adhesion even on difficult surfaces. The mounts accept most cable ties, and are made of a proprietary PA66 blend to resist impact, heat and UV exposure.
"During our field research in heavy equipment and auto manufacturing facilities, we saw several instances where cable routing was dictated by the location of the nearest bolt," said HellermannTyton Product Manager Adam Kropp. "That's not always a practical solution, so we set out to make a mount that could be anchored with the strength of a bolt and be placed practically anywhere."
One key to this achievement is in the selection of the bonding material. The cable mounts feature 3M™ VHB™ (Very High Bond) adhesive, which the manufacturer claims creates a virtually indestructible "weld." The cable mount itself is constructed of HellermannTyton's own impact-modified PA66 material for extraordinary durability. The formulation is heat stabilized and UV resistant for extended life outdoors.
Three sizes accommodate standard cable ties between 0.14 and 0.35 inch (3.6 and 8.9mm) wide. A fourth mount accepts HellermannTyton's Wide Strap Cable Tie, which is 0.5 inch (12.7mm) wide.
To benefit from the impact, heat and UV resistant properties of the mount, installers are advised to use cable ties with an identical composition. HellermannTyton offers an extensive range of formula-matched cable ties for this purpose.
Learn more about HellermannTyton's complete line of adhesive cable mounts at http://www.hellermanntyton.us/products.aspx?cat=1060.
About HellermannTyton
HellermannTyton is a global leader in cable management and protection products, identification systems and network connectivity solutions. Its systems and solutions are specified by major manufacturers and contractors in the electrical, OEM, data communications, automotive, heavy equipment, renewable energy and related industries. The company's engineered solutions and innovative products are designed and constructed to meet the strictest quality standards while delivering reliable implementation at the lowest cost. HellermannTyton operates in 37 countries, with North American headquarters in Milwaukee, Wisconsin.
CONTACT
Toni Parker
Phone: 414-355-1130 Ext. 8566
Email: [email protected]