Extraction Hood and Filter Bank provide weld fume control.
Press Release Summary: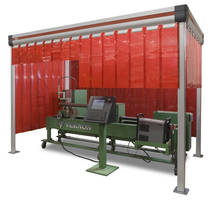 Modular Extraction Hood features semitransparent welding strips to prevent cross drafts and control airflow direction. Double-panel roof configuration acts as in-line baffle, deflection plate, and spark arrestor to protect ductwork. Incorporating dust hopper collector and MERV 16 rated filters, Statiflex® Filter Bank can contain 1 of 8 filter units, with filtration station ranging in sizes from 2-32 banks. Both systems remove welding fume and grinding particulate during welding applications.
---
Original Press Release:

Lincoln Electric Introduces New Modular Fume Extraction Hood and Statiflex® Filter Banks



Modular extraction hood and filter banks provide solution for weld fume control

Modular Extraction Hood

Statiflex® Filter Bank

Cleveland - Lincoln Electric has introduced a new modular extraction hood and filter bank system, designed for the removal of welding fume and grinding particulate during welding, cutting, arc gouging, grinding, plasma cutting and finishing operations in manufacturing plants, job shops and training environments.

These units may be adapted to most applications, including robotic welding, hard automation welding, semi-automatic and manual welding.

The system's modularity makes it easy for users to assemble, with the option to hang the hood in place from the ceiling or deploy as a free standing unit with the support of optional leg mounting kits. The sleek and lightweight design of the system makes it easy to mount and set up, and it's available in a variety of sizes to fit your work station footprint.

The Modular Extraction Hood features semi-transparent welding strips (non-transparent curtain strips are also available), which keep the area contained to prevent cross drafts and control airflow direction to maximize extraction effectiveness. The hood's unique double panel roof configuration acts as an in-line baffle, deflection plate and spark arrestor to prevent sparks from entering the duct work. Lincoln perimeter pull technology maximizes fume extraction efficiency at lower airflow rates for reduced energy consumption and equipment costs while enhancing overall safety performance.

Fabricators may choose one of eight Statiflex® Filter Bank units to complete the fume control and filtration system. The low vacuum-type Filter Bank filtration station can be purchased in sizes ranging from 2 banks through 32 banks, depending on the customer's application. The unit features an internal airflow system that disperses incoming air evenly throughout the filter bank and a self-cleaning design using air pulse amplifier technology to clean filters, making the Statiflex Filter Bank the ideal solution for welding fume extraction.

The Statiflex Filter Bank delivers a host of features to optimize convenience and function, including a dust hopper collector at the base of the unit for easy dust removal, as well as MERV 16 rated filters, one of the highest rated self-cleaning filters available. The self-cleaning control utilizes pressure drop technology to activate the cleaning cycle. The filter bank and fan motors are available in sizes ranging from 1.5 HP to 10 HP and are selected based on airflow requirements and pressure losses across system.

To learn more about the new flexible Modular Extraction Hood and Statiflex Filter Bank, call (888) 355-3213 or visit www.lincolnelectric.com to obtain Bulletin E13.60. You can also access information on the Modular Hood at lincolnelectric.com/weld-fume-control/ or on youtube.com at http://www.youtube.com/watch?v=mh4F3y9930o.

To directly answer any additional questions, the welding experts at Lincoln Electric have an e-mail address to assist any fabricator regarding their welding fume control questions. Contact the Automation Division customer service team anytime at: weldfumecontrol@lincolnelectric.com.

The operation of welding fume control equipment is affected by various factors, including proper use and positioning of the equipment, maintenance of the equipment and the specific welding procedure and application involved. Worker exposure level should be checked upon installation and periodically thereafter to be certain it is within applicable OSHA PEL and ACGIH TLV limits.

The Lincoln Electric Company, headquartered in Cleveland, Ohio, is the world leader in the design, development and manufacture of arc welding products, robotic arc welding systems, fume extraction equipment and plasma and oxyfuel cutting equipment. The company holds a leading global position in the brazing and soldering alloys market.

Media Contacts:

Kate Eidam - keidam@fallscommunications.com or 216.472.2390

Becky Casto - bcasto@fallscommunications.com or 216.472.2391

More from Computer Hardware & Peripherals