External Label identifies voltage sources within electrical panels.
Press Release Summary: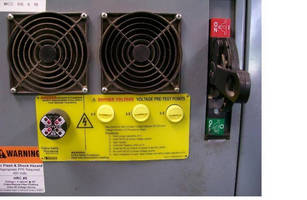 Interactive functioning voltage label, R-1A0033W-NPLPH assembly can identify arc flash ratings, verify voltage states, and locate all voltage sources from outside electrical panel. It consists of Voltage Vision® R-3W voltage indicator, 3 ChekVolt® R-1A voltage portals and polycarbonate UV-rated nameplate. ChekVolt® R-1A mounts in ½ in. hole, while Voltage Vision® R-3W mounts in standard 30 mm pushbutton hole. VoltageVision® monitors both AC/DC voltage between each phase and phase-to-ground.
---
Original Press Release:

Functional, Interactive Voltage Labels: Identify, Verify and Locate All Voltage Sources



Davenport, Iowa - Everyone wins when a maintenance worker is able to approach an electrical enclosure and obtain instant information on every voltage source feeding into that enclosure without opening a panel door. This ability to identify arc flash ratings, verify voltage states, and locate all voltage sources from outside an electrical panel greatly reduces electrical risks to employees, increases profits to employers, and promotes compliance to NFPA 70E. Grace Engineered Products, the thru-door electrical safety people, have combined two of their most popular electrical safety devices into one, easy-to-use, interactive, thru-door, functioning voltage label that accomplishes all three of those key objectives.

NFPA 70E requires voltage sources to be labeled on the outside of all electrical enclosures. In the past, these labels merely conveyed stagnant information that still required personnel to open panel doors to identify, verify and locate all voltage sources thereby putting workers at risk. Now, the concept of an interactive, functioning voltage label provides personnel with the ability to both visualize and verify the state of each electrical energy source feeding the enclosure - with the panel doors closed.

The new R-1A0033W-NPLPH assembly, known as the Interactive Functioning Voltage Label, consists of a Voltage Vision® R-3W voltage indicator, three ChekVolt® R-1A voltage portals and a polycarbonate UV-rated nameplate. The panel mount assembly provides two independent means of checking for the absence or presence of voltage with the control panel still closed. Field retrofits are simple because the nameplate includes pilot hole drilling locators. The ChekVolt® R-1A mounts in a ½" hole and the Voltage Vision® R-3W mounts in a standard 30mm pushbutton hole. For disconnect enclosures, R-1A0033W-NPLPF is designed to mount on a flange rather than a door.

o ChekVolt® extends a voltage point to the outside of an electrical enclosure so that a Non-Contact Voltage Detector (NCVD) can be used to check for AC voltage without access to the inside of the enclosure.

o VoltageVision® is a UL-listed device that functions like a permanently mounted voltmeter that monitors both AC and DC voltage between each phase and phase-to-ground. When a phase is lost the LED's corresponding to that phase will go out giving a visual indication of a problem outside of the panel.

Keeping the panel doors closed is the best way to prevent devastating electrical accidents. The Interactive Functioning Voltage Label from Grace Engineered Products is an inventive way to enhance compliance to NFPA 70E and increase employee productivity.

Grace Engineered Products is the leading innovator of thru-door electrical safety devices, and ships products all over the world including Asia, Australia, Europe, and North and South America. GracePort®, their brand of PLC ports, has revolutionized the automation industry by allowing customers to custom-design their port to meet their specific needs. Their ability to provide the customer with exactly what they need and ship 90% of their orders within 24 hours of receiving the purchase request means Grace Engineered Products lives up to their motto of being the easiest company with which you can do business. Grace Engineered Products is a privately owned company and located in Davenport, Iowa.

Grace Engineered Products

5001 Tremont

Davenport IA 52807

More from Safety & Security Equipment