Extender Kit extends A/V signals up to 700 ft.
Press Release Summary: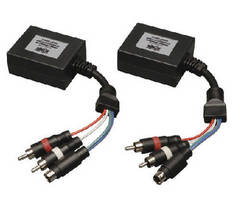 When used with 24 AWG solid wire UTP cable, B137-101 S-Video/Stereo Audio over Cat5 Extender Kit can transmit audio and video signals to remote TV or projector up to 500 ft from source. Maximum range can be extended to 700 ft by using Zero-Skew UTP cable. Supplied with both local and remote units, kit has built-in connectors that plug directly into source and display, and requires no external power.
---
Original Press Release:

Tripp Lite Introduces New All-in-One S-Video/Stereo Audio over Cat5 Extender Kit



New S-Video/Stereo Audio Solution Extends a Signal Up to 700 Feet

Model B137-101

Chicago, IL -- Tripp Lite has introduced a new S-Video/Stereo Audio over Cat5 Extender Kit (Model B137-101) that enables an S-Video/Stereo Audio signal to be extended up to 700 ft. When used with 24Awg Solid Wire UTP cable, the B137-101 can transmit audio and video signals to a remote TV or projector up to 500 feet from the source. Maximum range can be extended to 700 feet by using Zero-Skew UTP cable. Over shorter distances, standard Cat5 cables may be used.

Key Features and Benefits:

o Extends a 480p (60Hz) S-Video/Stereo Audio signal up to 700 ft.

o Comes with both local and remote units

o Built-in connectors plug directly into source and display-no need for additional cables

o No external power required

"S-Video/Audio is still widely used, and the B137-101, with its ability to transmit audio and video signals up to 700 feet, provides exceptional flexibility for a wide range of digital signage and display applications," said David Posner, Tripp Lite Product Manager. "Because it requires no power supply, special cables or adapters, it's simple to integrate into any system."

For more information on Tripp Lite's new S-Video with Stereo Audio over Cat5 Extender Kit, model B137-101 go to: Cat5 Extender Kit, model B137-101.

To download product images, go to: www.tripplite.com/model/4610

About Tripp Lite

Enhanced service and industry-exclusive products have been Tripp Lite trademarks for more than 85 years. Tripp Lite's innovations include the world's first UPS system designed specifically for personal computers, and the world's most trusted premium surge suppressor-the Isobar®-with more than 18 million in use. Tripp Lite maintains the highest level of ready-to-ship inventory in the industry with more than 1,000 different products, including UPS systems, surge suppressors, inverters, KVM switches, cables and connectivity products, power strips and PDUs, notebook accessories, rack systems, network management accessories and more. Headquartered in Chicago, Illinois, Tripp Lite maintains a global presence with fully staffed offices worldwide. Additional information, including a list of Tripp Lite's sales offices and authorized reseller partners, can be found by visiting Tripp Lite's Web site: www.tripplite.com.

Media Contact

Gloria Wong - Media/Public Relations Manager

Phone:+(773) 869-1229

Fax: +(773) 869-1935

E-mail: gloria_wong@tripplite.com

Tripp Lite World Headquarters

1111 W. 35th Street

Chicago, IL 60609

Phone: 773.869.1111

E-mail: info@tripplite.com

More from Chemicals & Gases