Extended Flute End Mills are suited for slab milling.
Press Release Summary: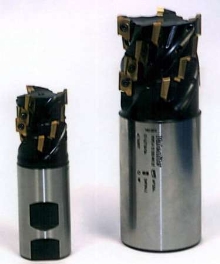 ValMILL(TM) V595 end mills employ cutter body design and geometry that deliver smooth cutting action for consistent dimensional and surface finish results. Products are available in 8 models that use AP10 or AP13 inserts and Weldon or cylindrical shank configurations. Cutting diameters range from 1.000-2.000 in., depending on model. Available coatings include multi-layer PVD TiAlN/TiN and TiN/Al
2
O
3
/TiCN CVD. Uncoated grade is also available.
---
Original Press Release:

New Valenite V595 Extended Flute Mills for Deep Cuts and Slab Milling


Extended axial cutting length adds versatility to milling operations needing deeper penetration for grooves, channels and cutting in a wide range of applications

The new ValMILL(TM) V595 Extended Flute End Mills from Valenite debuted at IMTS '04, adding new range of depth and versatility to the cutting tool company lineup. The new V595 series of end mills expands the V590 series of square shoulder mills, both face and end mill tools, with longer flute options and multiple inserts for making deeper cuts, for roughing and finishing of side walls of grooves, slots, cavities and other peripheral and end-milling applications. The cutter body design and geometry of inserts combine to deliver smooth cutting action in a variety of materials, providing strength and rigidity for consistent dimensional and surface finish results. The square, 90° milling configuration eliminates the need for many secondary operations.

Valenite offers eight different models of the V595 Extended Flute mills, including six with Weldon style shanks: 1.000, 1.250, 1.500 inch cutting diameters using AP10 size inserts, and 1.250, 1.500 and 2.000 inch sizes that use AP13 inserts. Two cutters of 1.000 and 1.250-inch diameter, using AP10 inserts, feature a cylindrical shank configuration. Effective length of cut for the extended flute mills ranges from 0.98 to 1.33 inches for AP10 style cutters, and from 1.81 to 2.26 inches for the AP13 style cutters. The cylindrical shank versions offer 0.98 to 1.33 inches cutting length. The number of inserts per tool varies by diameter, ranging from six to 15 inserts.

The cutter/insert design also provides superior chip evacuation properties for longer tool life, and a through-coolant design assures part surface finishes. The tools also incorporate quick insert index/changeover capabilities. Performance versatility is further enhanced by the inserts' top-form geometry that creates lower cutting forces, thus reducing horsepower requirements and allowing machines to operate at optimum metal removal rates.

The ValMILL V595 Extended Flute Series uses inserts that feature a two-cutting edge designs that helps maximize tooling economies. Three coated grades of inserts include two (VP5020 and VP5040) multi-layer PVD TiAlN/TiN coatings and a TiN/Al2O3/TiCN CVD (VPS 135) for tough machining. An uncoated grade (VPUK20) is also available. Three distinct top-form geometries make these cutters ideal for use with steels, stainless steels, cast irons, high-temperature alloys and in applications involving aluminum and other non-ferrous materials. Insert mounting is secured using the advanced Torx Plus® locking screw and driver system.

As with all Valenite products, the ValMILL V595 Series is backed by the company's top-rated Customer Service for ordering, pricing and delivery scheduling, plus a technical support staff offering continuously updated product and application data, and recommendations to optimize metal cutting productivity.

Valenite, headquartered in Madison Heights, Michigan with sales and service operations worldwide, is one of the largest suppliers of industrial cutting tools in the world. The company offers a complete line of standard and special indexable-insert turning, milling, grooving, threading, boring and drilling products to a variety of industries. Its product line also includes the VALCOOL® line of cutting fluids. In addition, special high-production tooling for custom machining systems is produced under the MODCO® name and a full range of inline, process and bench gaging systems is produced under the GAGING Systems name.

More from Test & Measurement