Extended Baseband Video Baluns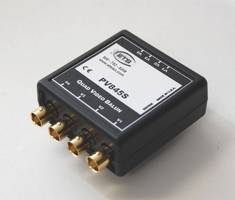 Save stressing your budget and back!
The ETS Extended Baseband Video Baluns (PV840 Series) give you the freedom to use UTP instead of costly coax to transmit baseband video signals with better signal characteristics. Using previously installed wiring, these baluns significantly reduce your labor and materials costs.
There are 14 products in this group of baluns; a balun for any of your needs. As an example, using the Quad Balun (PV845), four distinct baseband video signals can be transmitted on a single run of CAT5 or better UTP, where all 4 pairs in the cable are utilized. Since each pair has a carefully balanced signal, you can run video in two directions on different pairs simultaneously.
The PV849 is one example of our single Extended Baseband Video Baluns. These baluns also come in wall plate versions.
The Extended Baseband Video Balun Series supports NTSC, PAL, SECAM or CCTV color video at distances in excess of 1,082 feet, depending on the cable type. Black-and-white signals will typically be supported up to 2,460 feet.
ETS Extended Baseband Video Baluns - not the most expensive, just the best!
Visit! Energy Transformation Systems, Inc.
Website: http://www.etslan.com
About ETS - Woman Owned Small Business
Fremont, CA - Since 1967, beginning with custom-made transformers and continuing since 1981 as innovators of balun, hub, adapter and splitter technology, ETS provides a wide range of media conversion solutions for audio, data and video for analog or digital installations over structured wiring systems. ETS provides you solutions with 100% guaranteed USA-Made products.
ETS
(T) 800-752-8208, 510-656-2012
(F) 510-656-2026
Energy Transformation Systems,
43353 Osgood Rd., Unit B,
Fremont, CA 94539
ENERGY TRANSFORMATION SYSTEMS, INC.
The Media Conversion Company
Sales Contact:
Name: Joe Rosenberger,
ETS Sales
Email address: jrosenberger@etslan.com
800-752-8208 or 510-656-2012
More from Material Processing