EXSYS Highlights Flexible, Customizable Technologies at HOUSTEX 2017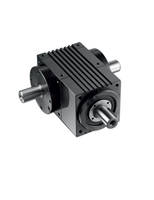 SAN ANTONIO, Fla., Jan. 31, 2017 – EXSYS Tool Inc. will demonstrate several of its innovative tooling, rotary table and gear making solutions in booth 2435 at this year's HOUSTEX on Feb. 28 – March 2 to be held at the George R. Brown Convention Center in Houston, Texas. Booth visitors will discover the benefits of the industry-leading PRECI-FLEX® tooling system, high-precision pL LEHMANN rotary tables and high-quality EPPINGER gearboxes/custom gear-making services.
PRECI-FLEX toolholders offer a fast, accurate and cost-effective solution for turning machine tooling changeovers. The modular system is the first tooling system on the market with a single base holder and multiple tooling adapters that use the ER collet pocket. The system's conical and flat face planar interface allows the use of either an adapter or a standard ER collet and enables collets, endmill holders, expanding collet chucks and shrink fit tooling to be mounted on a single base holder.
Available in a range of sizes, PRECI-FLEX provides unsurpassed productivity and reliability, with every toolholder offering repeatability within five microns. The system also virtually eliminates machine downtime and allows tooling adapters to be interchanged between fixed and rotary base holders for fast, economical machining.
The Swiss-manufactured pL LEHMANN 500 series of modular multi-axis rotary tables allow users to upgrade a vertical machining center to significantly increase productivity without incurring the expense of a new machine. Adaptable to nearly any workpiece or production situation, the tables are available in four basic models that can be assembled into as many as 240 different configurations. More than 20 different clamping methods and behind-the-spindle accessories that include rotary unions, special clamping cylinders and angular position measuring systems further extend the system's adaptability.
The pL LEHMANN 500 Series of modular designed rotary tables, available in North America through EXSYS, encompasses four standard single fourth-axis models. The EA 507 is the smallest size with a face diameter of 70 mm (3.00") and a spindle nose load capacity of approximately 240 lbs. Progressing in size and load capacity, there are the EA 510, 520 and 530 models, along with a high-speed EA 511 model that delivers double the rpm of the standard models.
Each of these table models can also be ganged together with multiple spindles/C axes next to one another. Beyond that, they can be configured as multiple axis systems that provide 180-degree A-axis tilt motion along with the C-axis rotation as on Lehmann's Series 500 T1- (Trunnion-style) and TF- (Cantilever-style) model.
EPPINGER offers BT (bevel torque) and BM (bevel maximum torque) compact spiral bevel gears that bring high torque and maximum efficiency to gear applications that require a high degree of reliability and variability. The company also offers PE (planetary eco) and PP (planetary precision) planetary gearboxes for applications that require low backlash, high efficiency, shock resistance and a high torque-to-weight ratio.
BP (bevel planetary) planetary bevel gearboxes also from EPPINGER combine features of the company's BT (bevel torque) series bevel gearboxes with the pre-stages of its PE (planetary eco) planetary gearboxes, creating an innovative solution for various applications. HT-type hypoid gearboxes feature a compact, robust design suitable for both specific and highly dynamic applications. To round out its product portfolio, EPPINGER develops and manufactures cycloidal gearboxes. These compact, high-transmission gearboxes are an excellence choice for tool machinery, automation and robotics.
In terms of custom gear-making services, EPPINGER, with more than 20 years of experience, can develop and manufacture virtually any type of gear. The crown gear diameters can range from 0.4 mm to 330 mm, depending on the transmission ratio. Examples include professional-quality, high-performance bevel gearboxes as well as ring and pinion gear sets.
About EXSYS Tool, Inc.
Founded in 1987, EXSYS Tool, Inc. is the exclusive importer of German-made EPPINGER solutions, including high-precision live and fixed toolholders for CNC turning centers, modular adapter systems for quick lathe tooling changeovers and gear box solutions for a wide range of applications. With headquarters near Tampa, Fla., and support offices in California, Canada and Mexico; EXSYS offers a variety of different tool holders, gold standard tooling repair and applications expertise to manufacturers throughout North America. For more information, please contact EXSYS Tool, Inc. at info@exsys-tool.com or visit www.exsys-tool.com.
More from Health, Medical, & Dental Supplies and Equipment