Explosion Proof LED Luminaires withstand harsh environments.
Press Release Summary: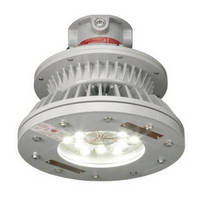 Offering 5 lm outputs, cool or warm LED color, and various mounting options, Hazard•Gard® EVLL luminaires have T6 temperature rating up to 55°C and provide safe illumination in harsh environments. Rated life of up to 60,000 hr minimizes lamp replacement frequency, and products feature NEC, CEC, UL, and CSA certifications. Along with shatter-resistant, explosion-proof glass lens, construction features fixture body and mounting module of copper-free aluminum with Corro-free™ epoxy powder.
---
Original Press Release:

New Cooper Crouse-Hinds HazardoGard® LED Luminaires Bring Energy, Cost Savings to Demanding Environments



High-performance LED Solutions for Explosionproof Environments



SYRACUSE, N.Y. – When the most demanding environments require even smarter solutions, users can feel confident choosing the latest technology from Cooper Crouse-Hinds, including the Hazard•Gard® EVLL Explosionproof light-emitting diode (LED) luminaires. Designed to provide safe, energy efficient illumination, EVLL LED luminaires are built to stand up to even the harshest environments while providing optimum illumination and reliability.



"As a company, we're taking our commitment to quality products for harsh environments to the next level by offering our customers a complete line of efficient, explosion-proof LED solutions," said Andrew Agan, global product line manager, lighting, Crouse-Hinds division. "These solutions will not only stand up to the harshest environments, but will also provide bright, energy efficient illumination."



Designed to provide a full lighting spectrum, the new Hazard•Gard® EVLL Explosionproof LED luminaires offer the same durability and reliability of traditional high-intensity discharge (HID) fixtures, but also include a host of additional benefits. Included in those benefits is a T6 temperature rating up to 55°C, an energy savings of up to 62 percent compared to equivalent HID fixtures and a reduction in overall maintenance, as each fixture offers a rated life of up to 60,000 hours to effectively eliminate the need to frequently replace lamps.



The Hazard•Gard® EVLL LED luminary fixture's body and mounting module is manufactured from copper-free aluminum with a Corro-free™ epoxy powder and features a shatter-resistant, explosionproof glass lens. For added durability, fixtures also include a silicone gasket and a stainless steel guard and exterior hardware.



Hazard•Gard® EVLL LED luminaires are ideal for locations requiring continuous and consistent light levels in extreme ambient temperatures. Locations may include areas that require frequent on-and-off of lights; where flammable vapors, gases, ignitable dusts, fibers or flyings are present; and where extremely corrosive, wet, dusty, hot and/or cold conditions exist. All fixtures are NEMA 4X, IP66, and Marine and wet location listed, and include several NEC, CEC, UL and CSA certifications.



Hazard•Gard® EVLL LED luminaires fixtures are available in five lumen outputs, in a cool or warm LED color, and come in a variety of mounting options.



To learn more about energy efficient solutions from Cooper Crouse-Hinds, visit www.crouse-hinds.com.



Cooper Crouse-Hinds is part of the electrical business of Eaton. Eaton acquired Cooper Industries plc in late 2012. Cooper Crouse-Hinds integrates a comprehensive line of electrical and instrumentation products with expert support, industry insights and local availability, engineering safety and productivity in the most demanding industrial and commercial environments worldwide. Cooper Crouse-Hinds manufactures over 100,000 products, including conduit and cable fittings; enclosures; plugs and receptacles; industrial lighting fixtures; signals and alarms; controls and electrical apparatus; commercial outlet boxes and hubs; and electronic components and protection equipment for process control branded MTL Instruments Group.  Cooper Crouse-Hinds products are sold worldwide and meet all local and international code requirements. They are used in general construction or in harsh and hazardous environments across the globe, performing to the highest standard of safety and reliability. For more information, visit www.crouse-hinds.com. For information about Eaton, visit www.eaton.com.

More from Software