EXP-LED-HL-MSHA-SP0198-50BK Bank Charging Station offers six amp maximum rating.
Press Release Summary: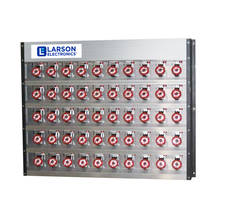 EXP-LED-HL-MSHA-SP0198-50BK Bank Charging Station is operated on 90-264V AC source and is wall mountable. Unit is used to recharge up to 50 Larson electronic headlamps and is equipped with clasps. Product features brushed aluminum finish and bright indicator light option. Station weighs 40 lbs. Head lamps deliver light beam over a distance of 450 ft and come with a 2600 mAh rechargeable lithium battery. Lamps are suitable for construction or mining operations.
---
Original Press Release:
Larson Electronics LLC Releases 50 Bank Charging Station for EXP-LED-HL-MSHA Series Headlamps
Industrial lighting expert, Larson Electronics LLC, released a bank charging station that recharges up to 50 Larson Electronic EXP-LED-HL-MSHA series headlamps individually. The charging bank is wall-mount compatible and features clasps for locking each individual headlamp during operation (locks not included).
The EXP-LED-HL-MSHA-SP0198-50BK is a charging hub that supports up to 50 individual charging stations in real-time for Larson's EXP-LED-HL-MSHA Explosion Proof Rechargeable LED Headlamps. These LED headlamps offer brilliant light beams for over 450 feet of reach, and include a single 2600 mAh rechargeable lithium battery that powers the headlight for 15 hours on high mode and 60 hours on low. The lamps are ideal for industrial facilities, commercial sites, warehouses, manufacturing plants, mining operations, inspections, surveying, sample collecting and more.
The EXP-LED-HL-MSHA-SP0198-50BK cordless charging station operates on 90-264V AC and features a six amp maximum rating, with a recommended 15-amp breaker (not included). This 50 bank charging unit has a brushed aluminum finish for durability to protect the individual LED headlamps during charging, and for general aesthetics. Each bank includes clasps for locking the individual EXP-LED-HL-MSHA explosion proof headlamps during operation to keep them safe. The cordless charging station features very bright indicator lights that notify operators when each individual headlamp is charging, or charging has been completed. This 40 pound unit is compatible with wall-mounting installations, eliminating the risk of tripping hazard or other mishaps. At just 4 inches thick the charging station has a slim build and will not protrude into the work space.
"This large charging bank is ideal for applications where many workers are using the compatible headlamps daily, especially construction or mining operations," said Rob Bresnahan, CEO of Larson Electronics LLC. "Wall mounting capability, cordless charging and locking clasps, make this charging bank a very convenient option and out of the way installation for operators."
About Larson Electronics LLC: Larson Electronics LLC is a manufacturer of industrial lighting equipment and accessories. The company offers an extensive catalog of industry-grade lighting and power distribution products for the following sectors: manufacturing, construction, food processing, oil and gas, military, marine and automobile. Customers can benefit from the company's hands-on, customized approach to lighting solutions. Larson Electronics provides expedited service for quotes, customer support and shipments.
More from Software