EXHL-TRN-LE1-1227 LED Light comes with adjustable surface mount bracket.
Press Release Summary: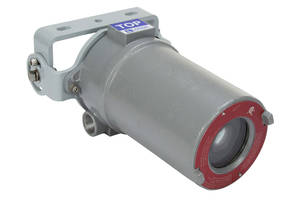 Producing 1320 lumens of high-intensity light, EXHL-TRN-LE1-1227 12W explosion proof LED Light is designed with terminal strips inside fixture for electrical connection. Operating in -40°C to 60°C temperature with 120 to 277 volts AC input, unit is resistant to dust, humidity and waterproof to 3 m. Product is available in spot or flood beam configuration with adjustable flat surface brackets for allowing operator to adjust tilt orientation.
---
Original Press Release:
Larson Electronics Releases a 12 Watt Explosion Proof LED Light
Larson Electronics, an industrial lighting company, has announced the release of a 12 watt explosion proof LED light equipped with an adjustable surface mount bracket.
The EXHL-TRN-LE1-1227 explosion proof LED light from Larson Electronics produces 1,320 lumens of high-intensity light for illuminating within hazardous areas and potentially explosive work environments. It can operate in temperatures of -40° Celsius to 60° Celsius, is waterproof to three meters, and resists ingress of dust, dirt, and humidity. This unit is Class 1 Division 1 rated, NEMA Type 3, 4, 4X, 7 (B, C, D) and 9 (E, F, G) rated, and designed to withstand the rigors of demanding environmental and operating conditions. This explosion proof light fixture is offered in a choice of spot or flood beam configuration and operates on 120 to 277 volts AC.
This explosion proof light features an adjustable surface mount bracket for seamless control. The included adjustable flat surface bracket has two set screws on the bracket, allowing operators to loosen the mounting bracket, adjust the light's tilt orientation, and re-tighten to hold the luminaire in position. A single through-hole mounting bolt allows operators to adjust the rotation of the fixture by loosening one bolt. Terminal strips inside the fixture allow the operator to make electrical connections. The wiring is fed through rigid pipe to the ¾" NPT hubs on either side of the fixture and ties in to the fixture's terminal strips, completing the electrical connection.
"Larson's new explosion proof LED light features a compact, yet powerful design allowing it to fit in the most minuscule spaces," said Rob Bresnahan, CEO of Larson Electronics. "This low profile, light weight LED light fixture is rated for use in hazardous areas worldwide including the United States, Canada, Europe, and Asia."
Larson Electronics carries an extensive line of LED light towers, portable power distributions, explosion proof lights for hazardous locations, portable work lights and industrial grade LED area lights. You can view the company's entire line of lighting by visiting them on the web at Larsonelectronics.com. You can also call 1-800-369-6671 to learn more about their products or call 1-214-616-6180 for international inquiries.
Related