Exhemplary Life Introduces New Straws Made From Hemp, Sugar and Cornstarch
Press Release Summary: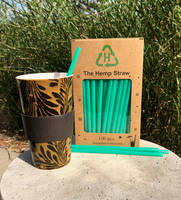 Can be used multiple times and starts to biodegrade in 80 days
Feels and looks like plastic but it has none of the negative environmental impacts
No residue, odd taste or disintegrating takes place when used or placed in warm liquids
---
Original Press Release:
Exhemplary Life Presents The Hemp Straw, an Eco-Friendly Alternative to Plastic Straws
Exhemplary Life, a leading manufacturer and supplier of CBD and hemp-based products, is pleased to announce the introduction of The Hemp Straw as part of their catalog offerings. The Hemp Straw is the only straw of its kind on the market that is made from hemp, a renewable, nontoxic resource.
With so many companies searching for alternatives to disposable plastics--especially in the food and beverage restaurant and service industries--the timeliness of making available eco-friendly alternatives to single-use plastic straws cannot be understated.
As an advocate for the Hemp plant, Exhemplary Life owner Carolyn Virostek indicates, "It only makes sense for us to use this plant to help alleviate the plastic straw problem. With over 500 million straws used a day, we need to make them nontoxic and environmentally friendly. We want to make a health-conscious difference and have a positive impact on our planet."
Additionally, The Hemp Straw can be used multiple times and starts to biodegrade in just 80 days. There is no residue, odd taste, or disintegrating when using this straw—even when placed in warm liquids. The Hemp Straw feels and looks like plastic, but it has none of the negative environmental impacts. Simply stated, these straws are made from hemp, sugar, and cornstarch—natural ingredients that are nontoxic to our planet.
It is important to note that The Hemp Straw is made from plant material in accordance with the standards of ASTM 6400, EN13432 and good to compost. It is FDA Approved.
100pc per box or bulk
Made of Hemp
Reusable a few times
FDA Approved 
Biodegradable within 3-12 Months
Compostable
For more on The Hemp Straw, please visit Exhemplary Life at https://www.exhemplarylife.com/ or via Sales.ExhemplaryLife@gmail.com
More from Fluid & Gas Flow Equipment