EXFO Solution Selected by US Tier 1 Service Provider for Groundbreaking Network Transformation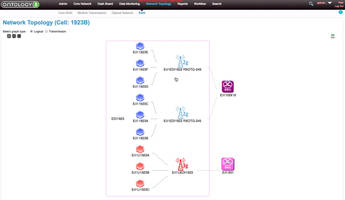 US$4.9M deal for real-time network topology software
Quebec City, Jan. 8, 2019 /CNW Telbec/ - EXFO Inc. (NASDAQ: EXFO), (TSX: EXF), the communications industry's test, monitoring and analytics experts, announced today that a US Tier 1 service provider has selected EXFO's real-time network topology software (EXFO Ontology) to facilitate groundbreaking network transformation.
EXFO's network topology software, which essentially maps network resources to related services in real-time, is used by service providers to obtain a unified view of their network. Ultimately, this information assures service delivery to end users.
In this particular case, the Tier 1 service provider will leverage EXFO's software solution to support game-changing operational automation and network integration. This challenge is compounded by the massive scale and complexity involved in combining legacy and next-generation technologies under a single, comprehensive network.
EXFO's unique solution will help the customer address these challenges by:
Locating and combining information from multiple data sources and transforming it into a validated and accurate searchable semantic model
Mapping and tracking the customer's network resources from end-to-end and generating a cohesive dataset that can be used to leverage those resources to their full potential
The contract win is valued at US$4.9 million.
"EXFO's innovative software solution provides this industry leader with unmatched visibility into their network, driving operational excellence and service agility," said Philippe Morin, EXFO's Chief Executive Officer. "To deliver superior customer experience, service providers must have a unified understanding of their network resources and be able to automate their consumption and change in real time across legacy and virtual networks. As this Tier 1 service provider continues its extensive digital transformation, EXFO's real-time network topology solution is bringing their systems and people together in a way that simply wasn't possible before."
About EXFO
EXFO (NASDAQ: EXFO) (TSX: EXF) develops smarter test, monitoring and analytics solutions for fixed and mobile network operators, webscale companies and equipment manufacturers in the global communications industry. Our customers count on us to deliver superior network performance, service reliability and subscriber insights. They count on our unique blend of equipment, software and services to accelerate digital transformations related to fiber, 4G/LTE and 5G deployments. They count on our expertise with automation, real-time troubleshooting and big data analytics, which are critical to their business performance. We've spent over 30 years earning this trust, and today 1,900 EXFO employees in over 25 countries work side by side with our customers in the lab, field, data center and beyond.
Source EXFO Inc.
Contact:
Anne Douville
Public Relations Manager
418-683-0913 Ext: 23463
anne.douville@exfo.com
Vance Oliver
Director, Investor Relations
418-683-0913 Ext:23733
vance.oliver@exfo.com
Web Site: http://www.exfo.com/
More from Non-Industrial Products