Excimer Laser offers up to 2 kHz repetition rate.
Press Release Summary: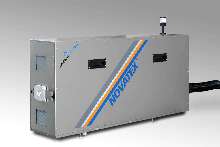 NOVATEX(TM), available in 248 or 193 nm wavelengths, provides stabilized average power of 12 W for ArF and 32 W for KrF. Bi-modular design separates laser head from external supply unit. Integrated HV switch matches multi-billion-pulse lifetime of Fluorine-optimized NovaTube®. PowerLock® control enables tens of millions of pulses in burst or continuous operation mode with critical energy stability staying below 2%. Laser is suitable for photo mask writing applications.
---
Original Press Release:

Lambda Physik Introduces New 2 kHz NOVATEX Excimer Laser


MUNICH, GERMANY, June 23, 2003 - Lambda Physik introduces the advanced NOVATEX(TM) industrial excimer laser series that offers extended performance up to 2 kHz repetition rate. This laser is available at 248 nm (KrF) or 193 nm (ArF) wavelengths. The stabilized average power for ArF is specified with 12 Watts, and 32 Watts for KrF. The NOVATEX is optimized to provide outstanding long-term beam stability performance, which makes it ideal for photo mask writing applications.

Maintenance time is minimized by a unique bi-modular design that separates the laser head from the external supply unit. The overall design complies with SEMI S2 standards. A new all-solid-state HV switch has been integrated to match the multi-billion-pulse lifetime of the new Fluorine-optimized NovaTube®. Optics lifetimes could be extended to billions of laser pulses by employing purgeable beam shields. In addition, the implementation of the PowerLock® control feature enables tens of millions of pulses in burst or continuous operation mode with critical energy stability staying below 2%, without laser gas refill.

In addition to mask writing the 2 kHz NOVATEX targets a variety of applications that benefit from high pulse frequency, such as various micro-structuring and micro-drilling applications, cable marking, optics testing, surface inspection, and semiconductor inspection and metrology.

Visit us at Booth #B2.207 to see the new NOVATEX 2 kHz laser. Lambda Physik is the worldwide technology leader for pulsed UV and tuneable laser sources for industrial, lithography, scientific and medical applications.

For more information contact: Lynn Kobel Haddad, Marketing Communications Manager, Lambda Physik USA Inc., 3201 West Commercial Boulevard, Fort Lauderdale, FL 33309, Phone: (954) 486-1500, Fax: 954) 486-1501, Email: marcom@lambdaphysik.com, Web site: www.lambdaphysik.com

More from Material Processing