Excavators offer fuel consumption reduction features.
Press Release Summary: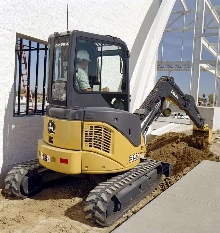 Ranging in size from 3-5 metric tons, 35D and 50D zero-tail-swing compact excavators are powered by 30 and 40 hp Yanmar Tier II compliant engines respectively. Both models feature auto-idle, automatic shifting between high and low travel speeds, independent swing boom, and bi-fold cab design with 360° rotation. With respective max dig reach of 17 ft 1 in. and 19 ft. 8 in., 35D and 50D have max dig depth of 10 ft 0 in. and 11 ft. 9 in.
---
Original Press Release:

D-Series Compact Excavators Deliver Productivity Boost, Lower Operating Costs


MOLINE, Ill. (March 16, 2005)--Ranging in size from three to five metric tons, the new John Deere 35D and 50D zero-tail-swing compact excavators provide reduced cycle times; better comfort with updated controls and cab; and lower operating costs with the introduction of auto-idle and longer oil change intervals.

Increased productivity begins with faster operating speeds and more drawbar pull, which will increase productivity when transporting around the job site or back-filling. These features are combined with auto-idle to reduce fuel consumption. A new, long arm and heavy counterweight option provides an additional foot of dig depth and reach. Automatic shifting between high and low travel speeds allows the machine to automatically shift into low when more power is needed. The D-Series machines are powered by Yanmar large displacement, Tier II compliant engines with a higher torque curve than previous models. The wide variety of Worksite Pro(TM) attachments for the 35C and 50C also work with D-Series machines.

"The D-Series retain the same compact design, independent swing boom and 360-degree rotation of the previous models, but productivity has been given a significant boost," said Mark Wall, product marketing manager, John Deere Construction & Forestry Company. "Drawbar pull has been increased by almost 35 percent on the larger model, and faster cycle times allow operators to dig more each hour."

Operators immediately will notice that the operator's station is five inches wider, and it features repositioned control levers and monitor that result in best-in-class visibility. The cab door's bi-fold design allows it to lock back against the cab in the open position. Foot room also has increased, with relocation of the speed selection switch and new, foldable travel pedals. A cup holder is standard. An optional cab comes standard with air conditioning and heater.

An updated undercarriage that sheds dirt easily reduces the time it takes to clean the unit. Longer service intervals, 500-hour engine oil change interval, 500-hour greasing interval and 2,000-hour hydraulic oil change interval--save on operating costs. Maintenance is made easy with a 50-degree forward tilt operator's station and all service checks are performed by opening just two covers.

"These excavators are nimble and versatile, and with the updates that enhance productivity even further, the D-Series are a great choice for any job requiring a compact machine," Wall said.

About John Deere: John Deere (Deere & Company-NYSE:DE) is the world's leading manufacturer of agricultural and forestry equipment; a major manufacturer of construction equipment; and a leading supplier of equipment used in lawn, grounds and turf care. Additionally, John Deere manufactures engines used in heavy equipment and provides financial services and other related activities that support the core businesses. Since it was founded in 1837, the company has established a heritage of quality products and services providing performance that endures to customers worldwide.

Key Specifications:



                                35D              50D

Net Engine Horsepower           30               40

Oper. Weight (lbs.)          7,672 lbs.       10,428 lbs.

Max Dig Reach               17 ft. 1 in.      19 ft. 8 in.

w/ long arm/counterweight

option                      18 ft. 2 in.      20 ft. 6 in.

Max Dig Depth               10 ft. 0 in.      11 ft. 9 in.

w/ long arm/counterweight

option                      11 ft. 4 in.      12 ft. 9 in.

Max Auxiliary Flow            17.5 gpm          22.5 gpm






Related