Event Recorder works with Tricon controller.
Press Release Summary: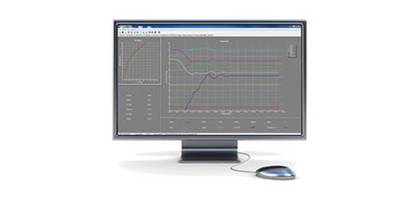 Windows-based TriLogger includes 3 software programs for monitoring real-time operation, recording, playing back, and analyzing operating data from Tricon control system. Programs include Event, which retrieves data through Net2 of NCM via NetDDE server; Playback for off-line analysis and plotting of operational data; and Remote, which runs on-site or remotely for viewing real-time data and manually triggering event recordings.
---
Original Press Release:
Triconex Introduces High Speed Event Recorder for the TRICON
-New Windows-based events recorder helps customers to record events and determine causes- IRVINE, Calif.,-February 13, 2001- Triconex, a unit of Invensys Process Systems and the world leader in providing industrial safety and critical control applications, announced today a Windows-based high-speed event recorder for Tricon called TriLogger. TriLogger is a trilogy of software programs for monitoring real-time operation, recording, playing back, and analyzing operating data from the Tricon system. "TriLogger is like having a thousand-line strip recorder connected to the Tricon," said Jim Jacoby, Turbomachinery product manager at Triconex. "By collecting input and output data as well as any internal variables and flags, its easy for our customers to reconstruct an event and quickly determine the cause. It collects both discrete and analog data and can retrieve data at the scan rate of the Tricon." Some of the major benefits of the TriLogger include multiple event triggers, remote connections that will see the local Tricon time, configuration that is easy to modify online, multiple event file data storage formats, remote connectivity, and trend sets and trend groups that are easily changed and saved. The TriLogger Program Suite: TriLogger Event - This program retrieves data through Net2 of the NCM via the NetDDE server. It stores the data in a circular RAM file and transfers the data to a hard disk when an event trigger occurs. This program also acts as a server for any remote monitoring PCs. TriLogger Playback - This program enables off-line analysis and plotting of operational data in any combination, and enables data export to Excel spreadsheets. TriLogger Remote - This program runs on-site or remotely for viewing real-time data and manually triggering event recordings. Earlier this month, the U.S. Nuclear Regulatory Commission (NRC) issued a Safety Evaluation Report (SER) approving TRICON Version 9 for use in 1E nuclear power plant Instrument and Control. The generic qualification of TRICON Version 9 is the first Triple Modular Redundant system to be qualified by the NRC. The SER encompasses both the software and hardware, including termination panels, chassis, power supplies, main processor modules, communication modules, input/output modules and interconnecting cabling. About Triconex Triconex is an operating unit of the Invensys Process Systems (IPS) Group and is a global leader in the supply of products, systems, and services for safety, critical control, and turbomachinery applications. Since its inception in 1983, the company has installed thousands of control systems solutions in a wide variety of industries and applications worldwide. Triconex products are based on patented Triple Modular Redundancy (TMR) technology. Today, Triconex TMR products operate in over 4,000 installations throughout the world, making Triconex the largest and most successful TMR supplier in the world. In January 2002, the TRICON Version 9 became the first TMR system to be approved by the U.S. Nuclear Regulatory Commission for use in 1E nuclear power plants. About Invensys Process Systems Invensys Process Systems is part of the US-based Software Systems division of Invensys plc. Invensys Process Systems' automation solutions provide measurable performance improvements across a broad spectrum of customer industries. Invensys Process Systems includes focused business units such as Invensys Process Solutions, plus well-known brands such as APV, Avantis, Esscor, Foxboro, Pacific Simulation, Simulation Sciences, Triconex and Walsh Automation. About Invensys Invensys plc is one of the global leaders in automation and controls. Headquartered in London, England, Invensys operates in all regions of the world through four focused divisions - Software Systems, Automation Systems, Power Systems and Control Systems. With just over 75,000 employees, the Group supplies a wide range of products and services, including advanced control systems, remote diagnostics and energy management for process plants, factories, and commercial environments; electronic devices and networks for residential buildings; as well as complete power systems for the industrial, telecommunications, and information technology sectors. © 2002 Invensys Systems, Inc. Product names may be trademarks or registered trademarks of their respective owners.
More from Fluid & Gas Flow Equipment