EVE2 Integrated Circuits are RoHS compliant.
Press Release Summary: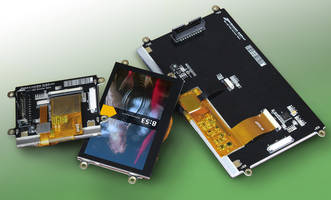 EVE2 Integrated Circuits feature TFT display modules which are integrated with touch and audio control option. Units come with four mounting holes and built-in scalable fonts. Products supports multiple image formats, widgets, video and audio playback and offer pulse width modulation backlight control. Circuits are equipped with on-board LED backlight driver and integrated with 1MB of built-in graphics memory. EVE2 is embedded with SPI interface and is offered in sizes ranging from 3.5 in. diagonal to 7.0 in. diagonal.
---
Original Press Release:
New Line of EVE2 TFT Modules brought to you by FTDI/Bridgetek & Newhaven Display International, Inc.
Newhaven Display International, Inc. teams up with FTDI/Bridgetek to bring 20 new TFT Display Modules powered by the EVE2 Graphic Engine.
The extremely powerful EVE2 generation of integrated circuits (ICs) are now available with new TFT display modules from Newhaven Display International. Newhaven Display has teamed up with FTDI/Bridgetek to create a high quality full color display product backed by the feature-rich FTDI EVE2 Graphic Engine. The product line is made up of twenty different modules ranging in size from 3.5" diagonal to 7.0" diagonal. They also come with options for resistive or capacitive touch panels, as well as Newhaven Display's Standard, Premium, and Sunlight-Readable display variants. For the first time ever, these new products allow you to connect to a Newhaven Display TFT via SPI interface. The modules are packaged with fully integrated capability for video, audio, and touch interactivity.
With Newhaven Display's EVE2 TFT Modules, you will find two standard 20-pin connection options on every board – a 1.0mm FFC and a 2x10 2.54mm IDC connection. Both of these connector options will bring you the full power of the integrated EVE2 IC, without ever sacrificing display brightness. Typical TFT Modules will compromise the backlight brightness to accommodate the featured IC; however with Newhaven Display's EVE2 Modules, the full potential of the display's backlight luminance is available and can be adjusted as needed with the Pulse-Width Modulation controls available on each model.
Like never before, communication with these Newhaven Display EVE2 TFT Modules is done via serial (SPI or QSPI) interface. This offers you the ability to keep your microcontroller costs low while still providing a rich list of features thanks to the FTDI/Bridgetek Graphic Engine. SPI interfacing expends less pins (I/O) and the IC source is the latest and greatest, so you can design these products into your project without fear of near obsolescence.
The EVE2 TFT Modules are powered by FTDI/Bridgetek's FT812 & FT813 Embedded Video Engines. These powerful chips bring the EVE2 TFT Modules many different capabilities. You'll be able to utilize high resolution graphics, touch interactivity, video playback (with QSPI from your controller), and audio synthesization & playback if a speaker is installed with your application. The EVE2 supports multiple image formats (JPG, PNG, AVI, among others) as well as widgets to streamline touch interactive features of the display. There is 1MB of built-in graphics memory (RAM) and no external frame buffer is required. For touch development, the EVE2 supports up to 255 "touch tags" for quickly and easily recognizing and tracking touch movement. It also facilitates rapid prototype development with built-in scalable fonts and support for both portrait and landscape orientations. You can also take advantage of example code and resources from the Newhaven Display GitHub library, as well as FTDI/Bridgetek's excellent community and collection of open source resources/tools for the EVE2.
This new EVE2 TFT Module product line is composed of 3.5", 4.3", 5.0", and 7.0" sizes (measured diagonally). The 5.0" version comes as a Premium MVA module with the option for either resistive or capacitive touch. The 3.5", 4.3", and 7.0" sizes are available in Newhaven Display's Standard, Premium, or Sunlight Readable variants and also each have the option for either resistive or capacitive touch panel support. This makes for twenty total products to choose from.
With such a wide range of options, a rich list of features, and so many capabilities never before seen from Newhaven Display products, there's an EVE2 TFT Module that can bring new life to any display project. Each and every product has a crisp, high-quality Newhaven Display TFT and the super powerful, feature-rich EVE2 from FTDI/Bridgetek. With this combination, there's nothing these displays can't accomplish.
Features
TFT Display Modules Fully Integrated with Touch and Audio Control
SPI Interface for Communication
Two Industry-Standard 20-pin Connection Options on Every Board; FFC & IDC
1MB of Built-in Graphics Memory (RAM) (no external frame buffer required)
On-board LED Backlight Driver that Will Never Compromise Brightness
Pulse Width Modulation Backlight Control
Supports Multiple Image Formats, Widgets, Video and Audio Playback
Includes Audio Synthesization Capability
Built-in Scalable Fonts
Support for Up to 255 Touch Tags for Tracking Touch Movement
4 Mounting Holes for Standard M3 Screws Integrated with the Board
Portrait and Landscape Orientations Supported
Open Source
Engineered and Assembled in Elgin, IL USA
RoHS Compliant
About Newhaven
Founded in 2001, Newhaven Display provides the worldwide marketplace with cost effective, high quality display devices ranging from OLED and LCD Displays to VFD Displays. In addition to their vast standard part offerings, they develop custom designs for all industries. They pride themselves on first-rate customer support and development assistance. For more information, please visit www.newhavendisplay.com
More from Architectural & Civil Engineering Products