Evaluation Board for CION LX facilitates test and development.
Press Release Summary: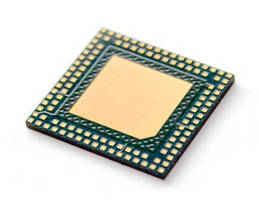 Designed to demonstrate technical test capabilities of CION LX JTAG controllable Tester on Chip (ToC), CION LX Evaluation Board (EVB) lets users verify all operating modes as well as develop applications and test scenarios. Circuit pins are accessible via connectors, and board also provides such additional resources as LEDs and adjustable clock generator up to 170 MHz. Control of features is carried out via JTAG port, and TAP connector allows direct access via Boundary Scan controllers.
---
Original Press Release:

Compact CION LX Evaluation Board for Test and Development



As part of Boundary Scan Days 2014, GOEPEL electronic introduces the CION LX Evaluation Board (EVB). The module was designed to demonstrate technical test capabilities of the CION LX circuit which is the world's first JTAG controllable Tester on Chip (ToC).



Using the Evaluation Board, users can verify all operating modes as well as develop their own applications and test scenarios. As a result, the entire range of performance of the CION LX chips and the potential of the Embedded System Access (ESA) technology can be achieved.



The pins of the circuit are accessible via connectors. The board also provides additional resources such as LEDs and an adjustable clock generator up to 170MHz, which is an ideal base for tracking frequency measurements or signal recordings by the digital Waveform recorder.



Control of the features is carried out thropugh the JTAG port. In addition, the Evaluation Board has a TAP connector which allows direct access via Boundary Scan controllers such as the PicoTAP.



About the CION™ LX:

The CION LX was developed in 0.35 µm mixed-signal CMOS technology and provides four independent I/O ports. Each port can be individually operated in a voltage range from 0.9 V to 3.6 V. The integrated Boundary Scan architecture supports the standards IEEE 1149.1, IEEE 1149.6 and IEEE 1149.8.1, at a maximum TCK frequency of 100 MHz. In addition to the single-ended pins, the CION LX provides differential signals as well as interfaces with increased driver capability. Four operation modes enable the IC's flexible utilization as a purely serially controlled JTAG transceiver, parallel I/O buffer, latched bus transceiver, and pin driver.



Additionally, instruments such as digitizer, arbitrary waveform generator, event counter, frequency meter and toggle detectors are integrated into the CION LX. These instruments can be accessed – depending on operation mode – either serially via the JTAG Test Access Port (TAP) or a parallel control bus. The instruments can be activated simultaneously to Boundary Scan operations and per test channel. For each channel, pull-up and pull-down resistors can also be connected and the drivers' slew rates can be programmed.



About GOEPEL electronic:

GOEPEL electronic is a worldwide leading vendor of innovative electronic and optical test and inspection systems, being the market leader for professional JTAG/Boundary Scan solutions for Embedded System Access (ESA). A network of branch offices, distributors and service partners ensures the global availability of the products as well as the support of the more than 8,000 system installations. Founded in 1991 and headquartered in Jena/Germany, GOEPEL electronic employs currently more than 200 employees and generated a revenue of 25 Million Euro in 2013 (ca. $34 Mio). GOEPEL electronic has continuously been ISO9001 certified since 1996 and has been honoured with TOP-JOB and TOP-100 awards for being one of the best medium-sized companies in Germany. GOEPEL electronic's products won several awards in recent years and are used by the leading companies in telecommunication, automotive, space and avionics, industrial controls, medical technology, and other industries. Further information about the company and its products can be found on the internet at www.goepel.com.



Press Contact:

GOEPEL electronic GmbH  

Matthias Müller   

Goeschwitzer Str. 58-60

Tel: +49-3641-6896-739

Fax: +49-3641-6896-944

Email: press@goepel.com

D-07745 Jena    URL: www.goepel.com

More from Software