Evaluation Backplane has options to help speed development.
Press Release Summary: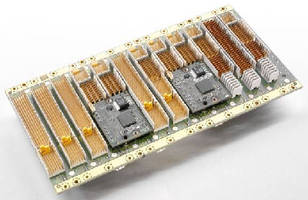 Able to run with cPCI 32-bit CPU or cPCI Express CPU, CompactPCI Evaluation Backplane includes one cPCI to cPCIx bridge and one cPCIx to cPCI bridge. It supports PICMG EXP.0 Rev 1.0 with power connector and PICMG 2.11 Rev 1.0. Power is provided via power rails for high current input (20 A each screw) up to 190 A, and ATX connector is available for additional power input (6 A each pin).
---
Original Press Release:

CompactPCI Express Evaluation Backplane



Evaluation backplane reduces development cost

Springfield, OH, June 16, 2009: Hartmann Electronic, the specialist in backplane technology, is pleased to introduce our CompactPCI Evaluation Backplane. This backplane provides all of the options to help reduce development time. Features include: Will Run either with cPCI 32-bit CPU or cPCI Express CPU. Includes one cPCI to cPCIx bridge and one cPCIx to cPCI bridge. PICMG EXP.0 Rev 1.0 with power connector. PICMG 2.11 Rev 1.0 (12V = 16A, 3.3V = 96A, 5V = 64A, -12V = 2A). Power is provided via power rails for high current input (20A each screw) up to 190A. ATX connector for additional power input (6A each pin). One cPCIx system slot right with four links: one link to the switch slot, one link to type 1 slot, one link to type 2 slot, and one link to cPCI bridge. One cPCI 32-bit system slot left with three legacy slots 32-bit, and a bridge to the cPCIx slots. One hybrid slot cPCI 32-bit and cPCIx. One switch slot with five links.

The Hartmann Electronic CompactPCI Evaluation backplane is available immediately. For more information: http://hael.de/en/products/

About Hartmann Electronic: Hartmann Electronic is a global manufacturer of backplanes and microcomputer system platforms supporting Open Architecture bus systems, including CompactPCI, cPCIx, 2.16, H.110, PXI, VME64x, VME320, VXI, VPX, and VXS. Hartmann Electronic offers the broadest range of off-the-shelf product selections in the industry.

For more information contact:
Scott Puderbaugh
Hartmann Electronic
National Sales Manager
P: 937 324 4422
F: 937 324 2425
E: scott.puderbaugh@hartmann-electronic.com

Company Information:
Hartmann Electronic
300 E Auburn Avenue
Springfield, OH 45505
USA
937 324 4422
www.hartmann-electronic.com

Related