Eurosatory 2012: Water-Gen Introduces Two New Water Production and Treatment Solutions that Eliminate the Need for Water Logistics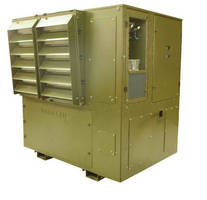 GEN-250G Creates Water from Air; SPRING Portable Treatment Unit Supplies Clean Water for Infantry Forces

Company recently won a tender to supply the British MOD with an Atmospheric Water Generation Device for an Operating Base - and is cooperating with several other armed forces, including the US Army and Marine Corps, and the armies of Israel, India, and Spain

Rishon Le'Zion, Israel - Water-Gen - a leading provider of water generation solutions for military, Homeland Security, and civilian applications - will showcase its unique water generation system, the GEN-250G - as well as its backpack portable water treatment unit - SPRING, for the first time at Eurosatory, June 11-15, Paris, Israel Pavilion, Hall 6, Booth # CD640.

GEN-250G - Creating Water from Air

Water-Gen's Water Generation Unit solves the acute problem of delivering vast amounts of water to remote battlegrounds and military bases. Creating water from air, the system makes the conveyance of water completely unnecessary, thus enhancing soldiers' safety.

The GEN-250G model is a stationary unit intended for remote military bases as well as for Homeland Security needs, including border control stations - and for civilian applications, e.g., oil exploration, mining operations, and others. Producing up to 500 liters (135 gallons) per day of pure, fresh, cold drinking water, the system is able to withstand the harshest field conditions, meeting requirements for MIL-STD. Unique and patented technology dramatically improves the energy efficiency and increases water production. The unit is easily transferred, assembled and disassembled, with no special installation required, making it an integral part of any expeditionary or permanent military base.

The water produced by the unit is stored within an internal tank and is continuously circulated, keeping it fresh and safe. Use of UV technology keeps the water clean and sterile, diminishing the growth and development of bacteria, algae, and viruses. Minerals are also added to improve the taste and quality of the water, which is dispensed at either cold or ambient temperature.

The company also provides compact, vehicle-mounted atmospheric water generator units that extract water from air. Fresh cold drinking water is supplied for the vehicle's crew from a tap inside the cabin or on the system. Optimized to operate in a wide range of environmental conditions, the units are scaled to fit military tactical vehicles, and can be customized to suit specific dimension and shape requirements. The unit is easy to use and maintain, ensuring water independence for the vehicle's crew. The GEN-35V provides up to 60 liters (16 gallons) per day, and the GEN-40V supplies up to 70 liters (18.5 gallons) per day, depending on environmental conditions.

SPRING - Producing Fresh Pure Water from Unauthorized Water Sources

SPRING is a portable water treatment unit that fits into a backpack. The device purifies water using reverse osmosis and UV - filtering both microbiological and chemical hazards. Suitable for a platoon or squadron, the unit pumps, filters, and dispenses fresh, pure water from any unauthorized water source, including tap water from a captured building, water tanks on roofs, wells, etc. Weighing only 12 kg. (26 lbs.), SPRING can filter 300 liters (75 gallons) per battery pack - compared with a 20 liter (5 gallon) jerry can of similar weight. Each unit can include two extra battery packs, enabling the filtration of 900 liters (240 gallons).

According to Arye Kohavi, Chairman and Co-CEO, "As we have seen in recent wars, dealing with the logistics of remote battlefields is extremely difficult, and the issue of water is an especially complex problem. Until now, the traditional solution has been water transport convoys that deliver the water to remote areas, which creates a major safety problem. Our solutions completely alter the way in which the issue is dealt with - by producing water at the required location, making transport of water from place to place totally unnecessary. We see a great deal of interest in our solutions among many armed forces around the world, and we are already cooperating with the US Army and the Marine Corps, as well as the armies of India and Spain. We have also recently won a tender for the supply of Atmospheric Water Generation Devices for the British army."

About Water-Gen

Water-Gen Ltd. specializes in water generation solutions for military, Homeland Security, and civilian applications. The company develops and manufactures state-of-the-art, high-end systems for customers worldwide. Solutions are based on in-depth research into water generation and water safety technologies. Water-Gen works closely with the civilian and military logistic community and with combat vehicle manufacturers worldwide to understand their needs and provide the best water solution for any platform. The company has several pending patent applications for "Water Generation Unit" and for "System and Method of Water Supply, Production and Management," covering various methods and technologies related to the implementation and operation of Water-Gen units.


More from Sensors, Monitors & Transducers