Ethylene Glycol protects industrial chillers.
Press Release Summary: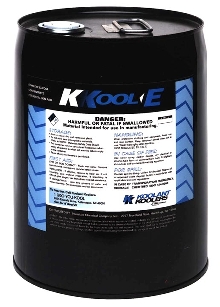 Custom-formulated, industrially inhibited K-Kool-E protects brass, copper, copper alloys, steel, cast iron, and aluminum. Inhibitor package neutralizes any corrosive acids while providing fluid stability. Operating temperature range is -60 to +250°F. K-Kool-E is available in 5 gal pails and 55 gal drums.
---
Original Press Release:
A New Glycol for Chiller Systems
Koolant Koolers announces the introduction of K-Kool-E inhibited ethylene glycol, designed for use in HVAC/R systems. K-Kool-E is an industrially inhibited ethylene glycol that is custom formulated to protect brass, copper, copper alloys, steel, cast iron and aluminum. It has an operating range of -60 degrees F. to 250 degrees F. The inhibitor package in K-Kool-E has excellent buffering characteristics and will neutralize any corrosive acids while providing fluid stability. K-Kool-E is ideally suited for use in industrial chillers. Available in 5 gallon pails and 55 gallon drums exclusively from Koolant Koolers. Koolant Koolers, based in Kalamazoo, Michigan, has designed and manufactured industrial chillers for a variety of process fluids since 1950. Cooling capacities range from one eighth ton to 700 tons. Styles include indoor, outdoor, split, modular and custom. Features include air-cooled and water-cooled condensers, blower fan packages, proprietary cleanable heat exchangers, submersed coil evaporators and patented K-slope condensers. For more information, please contact Koolant Koolers toll-free at 1-800-968-5665 (1-800-YOU-KOOL), via email at parts@koolant.com or visit their web site: www.koolantkoolers.com. Outstanding Chillers...Exceptional Value. 1950 - 2000
2625 Emerald Drive, Kalamazoo, MI 49001
www.koolantkoolers.com
Phone: 800.968.5665 or 616.349.6800
Fax: 616.349.8951