Ethernet-Switching Backplane conforms to PCIMG 2.16 spec.
Press Release Summary: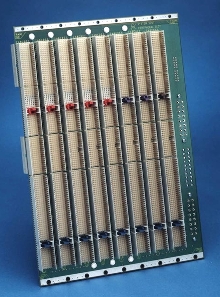 Backplane complies with PICMG 2.16 specification to implement Ethernet Switch Fabric, without use of cables. CompactPCI(R) backplane is available in 8, 10, and 21 slots, with 2 PICMG 2.16 fabric slots. It is available in 5 V and 3.3 V switchable V (I/0). Backplane offers type AB rear shrouds on RP3 and RP5, and type AB connectors per PICMG 2.16. H.110 version complies with PICMG 2.5 R1.0 CompactPCI Computer Telephony Specification.
---
Original Press Release:
PICMG(R) 2.16 CompactPCI(R) Packet Switching Backplane

Ayer, MA., Hybricon Corporation announces the release of a PICMG 2.16 backplane that complies with the PICMG 2.16 specification which was approved and released on September 5, 2001. The PICMG 2.16 CompactPCI Packet Switching Backplane specification provides a standardized way to implement an Ethernet Switch Fabric in a standard backplane without the use of cables, and using standardized backplane connector pinouts. As a sponsor member of the PICMG 2.16 effort, Hybricon has performed all of the PICMG 2.16 Signal Integrity simulations for PICMG, has balloted the PICMG 2.16 subcommittee draft specification and is intimately familiar with PICMG 2.16.

Hybricon's CompactPCI(R) Ethernet Packet Switching backplane is available in 8, 10, and 21 slots with two PICMG 2.16 fabric slots. Custom configurations from 2 to 21 slots are also available. H.110 versions are available which comply with the PICMG 2.5 R1.0 CompactPCI Computer Telephony Specification.

Additional features include:
> High performance, low noise
> Available in 5V or 3.3V switchable V (I/0)
> Jumperable geographic address
> Type AB rear shrouds on RP3, RP5
> Type AB connectors per PICMG 2.16
More from Adhesives & Sealants