Ethernet Network Terminals are offered in 11 models.
Press Release Summary: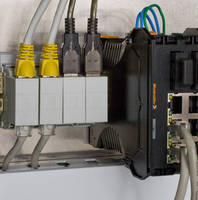 NetBloc terminal units provide network connection and network cable management on 35 mm DIN-rails, simplifying organization, managment, and labeling of network connections. Devices are available in 4 RJ45 versions, 6 fiber optic versions, as well as USB-to-USB version for connecting laptop computers or other USB devices to network. All feature earth grounding option, switched on or off during operation, for grounding shielded network connection to DIN-rail to minimize noise or ground loops.
---
Original Press Release:

New Industrial Ethernet Network Terminals - Fastest and Easiest Connector Available



RICHMOND, VA (March 10, 2009) - Weidmuller announces the introduction of a completely new networking and panel organization device- the NetBloc. The NetBloc line is comprised of eleven different networking terminal units that provide network connection and network cable management on 35mm DIN-rails. This new line provides engineers with a method of organizing, managing, and labeling networking connections in much the same way they currently manage power and signal connections with terminal blocks.

"These new NetBlocs are essentially the terminal block for networking connections", says Bruce Hofmann, Director of Marketing at Weidmuller, "Now all of the marking and organizational benefits of terminal blocks are available to network terminations."

There are four unique RJ45 versions including standard RJ45 to RJ45 couplers, RJ45 A-coded, RJ45 B-coded, and RJ45 PROFINET, each rated for cabling and performance to Cat6A. The six fiber optic versions include SC single mode, SC multimode, ST single mode, ST multimode, LC Duplex single mode, and LC Duplex multimode. In addition to these ten RJ45 and Fiber Optic models, there is also a very useful USB-to-USB version for connecting laptop computers or other USB enabled devices.

One of the most unique features of each NetBloc is the functional earth grounding option that can be switched on or off during operation. This provides the built-in option to ground a shielded network connection to the DIN-rail to reduce noise or potential ground loops.

"The NetBloc line of connection technology is the closest thing to an Industrial Ethernet insurance policy that you can get. Why risk running a contaminated wire into your Ethernet switch and damaging a port, or even the entire switch? With NetBloc, the risk of damaging a RJ45 or Fiber Optic port on an Ethernet switch is virtually eliminated. There should be no need for anyone in the field to connect or disconnect the cabling directly from the switch," said Tobin Robertson, Weidmuller Product Manager.

The NetBloc line of Industrial Network terminals provides the most flexible Ethernet connection technology, when designing or deploying control cabinets and panels. All eleven versions have an IP20 environmental rating. For additional product information, go to www.weidmuller.com.

Weidmuller is the leading provider of solutions for the transmission of power, data and control signals in industrial environments. The company develops, produces and sells industrial electronics, network infrastructure components and connectivity solutions such as Wireless Solutions, Industrial Ethernet, Relays, Power Supplies, I/O modules, printed circuit board connectors, terminal blocks and complete DIN Rail assemblies. The Weidmuller group has a strong international focus with manufacturing and sales locations in over 70 countries.

Weidmuller 821 Southlake Blvd. Richmond, Virginia 23236

Phone: (804) 794-2877 FAX: (804) 379-2593

More from Agricultural & Farming Products