Ethernet I/O Modules feature P2P functionality.
Press Release Summary: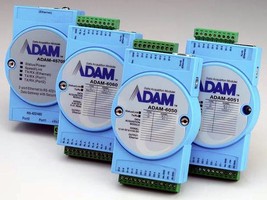 With peer-to-peer functionality provided in firmware, ADAM-6000 distributed Ethernet I/O modules can actively update input channel status to specific output channels. Data will transfer automatically, with no extra controller or programming needed. GCL software utility, also included, adds control logic between input and output, and can create equivalent instructions to simple ladder logic instructions on PLC's. It also supports flexible cascade function locally or over Ethernet network.
---
Original Press Release:

Advantech's ADAM-6000 Modules Now Include Peer-to-Peer and Graphical Condition Logic Functionality



Cincinnati, Ohio - 5/15/08 - The Industrial Automation Group of Advantech has announced a new firmware enhancement for the ADAM-6000 Ethernet I/O modules which adds advanced Peer-to-Peer (P2P) and Graphic Condition Logic (GCL) functionality.

PEER TO PEER: With this functionality, these distributed Ethernet I/O modules can actively update input channel status to specific output channels. In the past, a controller was needed to read data from the Ethernet input modules to Ethernet output modules. Now the data will transfer automatically, with no extra controller or programming needed. Also, it can minimize the system response time.

GRAPHIC CONDITION LOGIC: GCL is a windows-based software utility to add control logic between input and output without extensive programming. GCL can easily create equivalent instructions to simple ladder logic instructions on PLC's. It also supports flexible cascade function locally or over the Ethernet network.

The ADAM-6000 modules provided a variety of input/output options, a simple PC ladder logic, logic cascade and feedback function, online monitoring of running status, the ability to connect to SCADA/HMI software, a built-in web server, and an extremely fast response time.

To purchase or if you have any questions, please contact Advantech at 1-800-205-7940 or your regional Advantech authorized dealer for more information.

Advantech Corporation, Industrial Automation Group - Founded in 1983, the Industrial Automation Group of Advantech Corporation is a pioneer in eAutomation technology; combining connectivity, flexibility and ruggedness with today's most reliable PC-based automation technologies. Product offerings include: Open HMI platforms, Industrial Ethernet, Automation Controllers, Automation Software, Embedded Automation Computers, Distributed I/O Modules, Plug-in I/O, and Industrial Communication solutions for a wide array of industries. With more than 20 years experience in providing a full range of products to different vertical markets, the eAutomation group is proving to be a globally leading Automation Product and Services provider. US operations for the eAutomation Group are based in Cincinnati, OH (800-205-7940).

Advantech Corporation,
eAutomation Group,
1320 Kemper Meadow Drive,
Suite 500,
Cincinnati,
OH 45240.
Website: www.advantech.com.
Email: eAinfo@advantech.com.

Advantech Industrial Automation Group
Chuck Harrell
513-742-8895 ext 333
chuck.harrell@advantech.com

More from Packaging Products & Equipment