Ethernet Gateway delivers power management functionality.
Press Release Summary: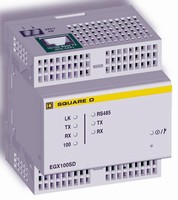 Using Modbus® TCP/IP protocol, PowerLogic® EGX100 provides Ethernet-to-serial-line connectivity between intelligent meters, sensors, and other remote instruments. It extends Ethernet access within one building or throughout multi-site enterprise to help monitor, program, or control multiple devices. Equipped with TCP/IP-filtering security feature, PoE-enabled device hosts built-in web pages for configuration of unit using Internet Explorer web browser.
---
Original Press Release:


Schneider Electric Introduces Low-Cost Ethernet Gateway for Affordable Power Management:




Compact device provides simple, cost-effective Ethernet access to power meters and sensors

PALATINE, Ill. - September 15, 2005 - Schneider Electric today introduced the latest innovation in affordable power monitoring and control: the PowerLogic® EGX100 Ethernet gateway. Whether extending Ethernet access within a single building or throughout a multi-site enterprise, the PowerLogic EGX100 Ethernet gateway provides cost-effective, reliable Ethernet-to-serial-line connectivity between intelligent meters, sensors and other remote instruments. Ideal for energy management, power distribution, building automation or factory automation, the gateway uses the Modbus® TCP/IP protocol for fast, reliable communications in even the most demanding applications. Whether used to help monitor, program or control multiple devices, the EGX100 offers power and performance in a compact, affordable and easy-to-use package.

As Internet technologies and services become increasingly prevalent within industrial applications, products such as the EGX100 Ethernet gateway represent considerable opportunities in remote control and maintenance. The "Power Over Ethernet"-enabled EGX100 eliminates the need for control power transformers (CPT), disconnects, and AC-DC power supplies, while reducing installation time and costs. Plus, the gateway hosts its own built-in web pages so facility managers can configure the unit from any web-enabled workstation, using a standard Microsoft® Internet Explorer web browser. Other highlights include a TCP/IP-filtering security feature that enables facility managers to specify the access level (Read Only, Full Access or No Access) of each Modbus master device to slave devices. Additionally, the gateway allows a Modbus RTU or ASCII serial master device - such as a building-management system or programmable logic controller (PLC) - to access devices across a TCP/IP network.

The PowerLogic EGX100 Ethernet gateway is available now from Schneider Electric. For more information, visit the EGX100 Ethernet Gateway page at http://www.powerlogic.com/products.cfm?id=17.

Headquartered in Palatine, Ill., the North American Operating Division of Schneider Electric had sales of $2.6 billion (U.S.) in 2004. The North American Operating Division is one of four operating divisions of Schneider Electric, headquartered in Paris, France, and markets the Square D, Telemecanique and Merlin Gerin brand products to customers in the United States, Canada and Mexico. In the United States, Schneider Electric is best known by its flagship Square D brand, with Telemecanique becoming increasingly known in the industrial control and automation markets and supported by many Square D distributors. For 100 years, Square D has been a market-leading brand of electrical distribution and industrial control products, systems and services. Schneider Electric is a global electrical industry leader with 2004 sales of approximately $12.8 billion (U.S.).

Visit Schneider Electric on the Internet at:
o Corporate - www.us.schneider-electric.com
o Telemecanique Products - www.us.telemecanique.com
o Square D Products - us.squared.com
o Merlin Gerin Products - us.merlingerin.com

Please send all reader inquiries to:
Square D Literature Fulfillment Center
W6545 Quality Drive
Greenville, WI 54942
Attention: Joan Kilgas
800-392-8781
or e-mail to: SquareD@banta.com


More from Agricultural & Farming Products