Ethernet Connectors/Cable Assemblies link field devices.
Press Release Summary: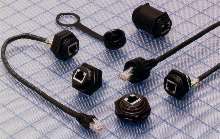 Sealed RJ-45 industrial Ethernet products combine mini-form circular housings with RJ-45 receptacles. Various types include 110 punchdown block, short-depth version, and bulkhead passthrough receptacle. Connectors are molded from ABS, while RJ-45 jack contacts are copper with nickel underplating and gold finish. Mating cycles are rated at up to 250 and electrical performance is rated at 1.5 A and 125 Vdc. Products include RJ-45 and RJ-11 cordsets.
---
Original Press Release:

Tyco Electronics Industrial Ethernet Connector Links Field Devices


HARRISBURG, Pa., March 20 - Tyco Electronics recently introduced a complete offering of Sealed RJ-45 Industrial Ethernet connectors and cable assemblies. The connectors and cables are designed for many demanding manufacturing, processing and commercial applications. The connectors combine an industry proven mini-form circular housing with an RJ-45 receptacle.

The receptacles are available in a variety of configurations to match many application requirements. A 110 punchdown block is available for quick, easy insulation displacement connections (IDC). This receptacle style is suitable for many premises wiring applications. Additionally, another receptacle style is available for printed circuit board (PCB) installation. This style is a short depth version intended for OEM designs that require an IP-67 rated, robust connection for field equipment. A standard PCB receptacle is also available which allows a designer to solder a cable lead to an industrial Ethernet connection. Lastly, a bulkhead passthrough receptacle is available. This version allows designers to bring Ethernet to a control box and creates a sealed interface rated for IP 67.

The connectors are molded from ABS for the standard version with additional materials available for outdoor applications requiring UV stabilization. The RJ-45 jack contacts are copper with nickel underplating and gold finish. Mating cycles are rated at up to 250.

Electrical performance is rated at 1.5 amps and 125 VDC. The 110 punchdown and bulkhead passthrough are Category 5e compliant and the direct PCB mount is Category 5 compliant. Since the standard PC board mount requires field termination, it does not carry a rating.

This new release also includes RJ-45 and RJ-11 cordsets. The cordset uses a standard RJ-45 or RJ-11 plug and adds strain relief and a locking mechanism which seals the connector when mated with an appropriate receptacle. Overmolded and field assembled plugs are available. Designers can select from solid core, shielded PUR cable for long runs, stranded PVC for shorter "patch" applications or for more extreme environments, PROPLEX cable with a KEVLAR jacket can be used.

Standard PCB Mount receptacles are priced at $41.00 each in low quantity levels. Standard delivery is 4 weeks.

For more information, literature or free samples of Industrial Ethernet connectors, contact Tyco Electronics' technical support center at 1-800-522-6752. E-mail requests may be sent to: newproducts@tycoelectronics.com

ABOUT TYCO ELECTRONICS
Tyco Electronics, a division of Tyco International, is the world's largest passive electronic components manufacturer; a world leader in cutting-edge wireless, active fiber optic and complete power systems technologies; and is also rapidly developing extensive networking and building technology installation services. Tyco Electronics provides advanced technology products from over forty well-known and respected brands, including Agastat, Alcoswitch, AMP, AMP NETCONNECT, Buchanan, CII, CoEv, Critchley, Elcon, Elo TouchSystems, M/A-COM, Madison Cable, OEG, OneSource Building Technologies, Potter & Brumfield, Raychem, Schrack, Simel and TDI Batteries.

TYCO is a trademark
KEVLAR is a trademark of E.I. DuPont De Nemours and Company
PROPLEX is a trademark of TMB Associates

More from Sensors, Monitors & Transducers