Ethernet Cable Clamp Tester™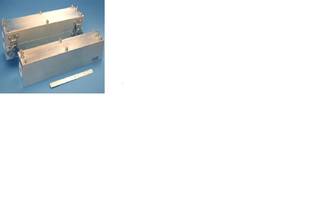 Ensure the quality of your cable with ETS Ethernet Cable Clamps...
The ETS Ethernet Cable Clamp Testers (CC-101/102/109) allow for the injecting of a common mode current into CAT5e, CAT6A and CAT7 cables in order to test gigabit Ethernet for the common mode noise.
The CC-101 and CC-102 have (6) thumb-bolts allowing the release of the unit halves for cable insertion for testing purposes. The CC-109 has 4 spring latches for quick and easy test set ups.
The Ethernet Cable Clamps (CC-101/CC-102/CC-109) are used in the common-mode noise rejection test of the IEEE Standard 40.6.1.3.3, which is used to determine the sensitivity of the 1000BASE-T or 10GBASE-T receiver to common-noise from the link segment. This specification is provided to limit the sensitivity of the PMA receiver to common-mode noise from the cabling system. All units can test 1 - 10 Gigabits.
Designed by IEEE engineers, and built according to the 802.3 requirements, these unique Cable Clamp Ethernet Testers are made in the USA and only by ETS.
Visit our website! Energy Transformation Systems, Inc.
About ETS - Woman Owned Small Business
Since 1967, ETS began with custom-made transformers and in 1981 continued as innovators of balun, hub, adapter and splitter technology. ETS has provided media conversion solutions for analog or digital audio, analog or digital video, sending and receiving signals over Cat 5e. 6 or 6a UTP or STP. ETS also provides solutions with "made in the USA" custom designed products.
ETS
(T) 800-752-8208, 510-656-2012
(F) 510-656-2026
Energy Transformation Systems,
43353 Osgood Rd., Unit B, Fremont, CA 94539
Sales Contact:
Name: Joe Rosenberger,
Sales
Email address: jrosenberger@etslan.com
800-752-8208 or 510-656-2012
Related