Ethernet Based Vibration Analyzer handles 8-56 channels.
Press Release Summary: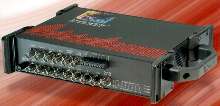 Portable ZonicBook/618E(TM) vibration analysis and monitoring system is available with 5 eZ-Series(TM) software packages to define specific analysis and monitoring features. Hardware includes Ethernet engine powered by PowerPC processor, which enables all acquired data to be transferred to PC in real-time at 2+ Mb/sec. Unit has 8 software-programmable dynamic inputs, front-panel indicators for every channel, and 4 separate inputs for measuring tachometers.
---
Original Press Release:

New Ethernet-Based Portable Vibration Analysis and Monitoring System


Lowest cost compact Ethernet-based analyzer system features 8 to 56 channels

CLEVELAND, OH, March 2004 - IOtech has introduced a new full-featured vibration analyzer, the portable ZonicBook/618E(TM). Vibration analysis and monitoring has never been easier than with the new ZonicBook/618E with the eZ-Series(TM) analysis and monitoring software. The ZonicBook leverages 20+ years experience of providing vibration measurement solutions, and this compact Ethernet-based solution adds another dimension - the lowest cost full-featured 8 to 56-channel analyzer available from anyone.

Since software in the PC determines all of the ZonicBook's capabilities, it is easy to upgrade your system and add more capabilities over time. The ZonicBook hardware is the signal conditioning and acquisition engine, while the software in the PC defines the specific analysis and monitoring features of the system.

Software
Five software packages are available with the ZonicBook. Each is tailored to a particular vibration measurement and analysis application. You can choose the package that suits your particular application and then upgrade to additional packages as requirements evolve.

o eZ-Analyst(TM) provides real-time multi-channel vibration analysis, including features such as overlay of previously acquired data while acquiring new data, strip charts of the throughput data files, cross channel analysis, and direct export to the most popular MODAL analysis packages, ME Scope and Star Modal.

o eZ-TOMAS(TM) provides on-line vibration recording of rotating machinery, with limit checking, storage, and analysis of acquired data. Order tracking, Waterfall, Orbit, Polar, Bode, Spectrum, and Trend displays show machine startup and shutdown events, as well as diagnose long-term changes in machine health.

o eZ-Balance(TM) is used to balance rotating machinery with up to seven planes. A balance toolkit, including Split Weight calculations, supports the balance process. The balance vectors are displayed on a polar plot so the user has a visual indication of the improvement. Time and spectrum plots show detailed vibration measurement during the balance process.

o eZ-Rotate(TM) provides in-depth post-acquisition analysis of measurements made by the ZonicBook on rotating machinery. Special emphasis is on order normalization and order tracking by resampling the time domain data acquired from eZ-Analyst. eZ-Rotate displays order tracked waterfall, Bode plots of Phase and Magnitude, order tracks of amplitude vs. RPM and color speed spectrum maps.

o eZ-NDT(TM) package is exclusively used in production applications to determine the quality of composite-metal products at production rates of 1 part per second.

Hardware
The heart of the ZonicBook is a high-speed Ethernet engine powered by a PowerPC processor, enabling all acquired data to be transferred to the PC in real time at 2+ Mbytes per second. This means that every acquired data point can reside on your PC's hard drive, making recreation and post acquisition analysis of acquired data as precise as possible. Other analyzers simply store frequency-domain information, which makes playback less precise than the original real-time measurement. Instead, ZonicBook transmits all time-domain measurements, which means there's no data loss when analyzing acquired waveforms. Since the data is already on your PCs hard drive, there's no time lost transferring data, as with other analyzers.

Signal Conditioning
The eight built-in dynamic inputs to the ZonicBook are software programmable for voltage range (9 ranges), AC/DC coupling, ICP® source, and are capable of reading sensor calibration information using TEDS (Transducer Electronic Data Sheet).

When ICP sensors are attached, AC coupling with 4 mA bias current is selected via software. AC coupling without bias is also possible for measuring any AC waveform from 25 mV to 5V full scale. DC coupling is also software selectable, with full-scale ranges from 25 mV to 25V. DC coupling is useful when attaching proximity sensors.

Front-panel indicators for every channel illuminate when an open ICP® sensor is detected, or when an over-range condition occurs. The indicators are latched when the fault condition occurs so that the operator is aware of the condition, and are reset when a new acquisition is initiated.

Up to 56 channels of dynamic signal inputs can be measured with the ZonicBook, by adding 8-channel WBK18 expansion options. Each option provides the same capability as the built-in dynamic signal channels.

Tachometer Inputs
The ZonicBook has four separate inputs for measuring Tachometers. To accommodate a wide variety of tachs, each input is programmable for input range up to ±75V. Tach inputs have programmable AC/DC coupling, low-pass filtering, threshold level, debounce, and counter mode. Tach waveforms can be captured in real-time just like any other analog input, allowing real-time troubleshooting of tachometers. Tach inputs are used by eZ-Analyst and eZ-TOMAS software to determine relationships between frequency domain input channels to a known input frequency source.

Pricing
The eight-channel ZonicBook/618E including one eZ-Series software package is $13,999. Each additional 8-channel option is $4,899. Availability is 3 weeks ARO.

About IOtech
IOtech produces data acquisition hardware and software for use in PC-based test and measurement, and industrial automation systems. Its products are used in research and manufacturing facilities and are sold throughout the world. IOtech, Inc. is located at 25971 Cannon Road, Cleveland, Ohio, 44146; telephone: (440) 439-4091; fax: (440) 439-4093; E-mail: sales@iotech.com; www.iotech.com.

ZonicBook(TM), eZ-Analyst(TM), eZ-TOMAS(TM), eZ-Balance(TM), eZ-Rotate(TM), and eZ-NDT(TM) are trademarks of IOtech, Inc. All other trademarks or registered trademarks are the property of their respective holders.

More from Electrical Equipment & Systems