Stepper Motor Controllers and Drives
EtherCAT Drive Module suits limited space applications.
Press Release Summary: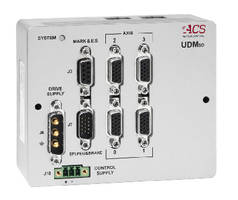 Featuring dual/quad-axis universal drive, UDMSD Series is designed for servo, step, and voice coil motors with continuous power range of 10–100 W. Module supports up to 4 digital incremental encoder channels and 2 absolute encoder channels. Serial Peripheral Interface supports other feedback devices, such as autofocus signals. Available with currents of 1.25/2.5 A and 2.5/5 A (cont/peak), unit is powered by 12–48 Vdc drive supply voltage and separate 24 Vdc ±20% control supply.
---
Original Press Release:

ACS' New Compact EtherCAT Drive Module for Applications with Limited Space



UDMSD Series EtherCAT module with dual/quad-axis universal drives for small servo, step, and voice coil motors...



BLOOMINGTON, MN – ACS Motion Control has launched a new series of compact EtherCAT drive modules for servo, step, and voice coil motors. Featuring a powerful dual/quad-axis universal drive, the UDMSD Series is designed for motors with a continuous power range of 10W to 100W (200W peak). The type of motor is selected by the user and can be set differently for each drive.



The UDMSD Series addresses the needs of demanding multi-axis motion applications with limited space, such as moving inspection heads, small manipulators, moving coil actuators, and table-top motion stages.



The small size, low weight, and minimal cable interface makes the UDMSD Series ideal for mounting remotely on moving stages. The compact EtherCAT drive module supports up to four digital incremental encoder channels and up to two absolute encoder channels. It includes a Serial Peripheral Interface (SPI) to support other feedback devices, such as autofocus signals.



"The UDMSD Series is designed for cost-sensitive applications that demand high-performance motion control in a small package," said Jason Goerges, ACS Inc. General Manager. "These compact EtherCAT drive modules offer superior multi-axis motion control compared to other available options in the market today."



The UDMSD Series operates under any ACS EtherCAT Master Motion Controller. Such a controller can manage networks with up to 64 axes and thousands of IO points. It is available with currents of 1.25/2.5A and 2.5/5A (cont./peak). The unit is powered by a 12 to 48Vdc drive supply voltage and by a separate 24Vdc ± 20% control supply that keeps all logic signals alive during emergency conditions.



All connectors of the motors, the encoders and the I/Os are sub-D type connectors. The UDMSD Series is panel or din rail mountable.



For more information about ACS control solutions, visit www.acsmotioncontrol.com.



Contact ACS at 7444 W 78th Street, Bloomington, MN 55439; call 763-559-7669 ext.131; e-mail jasong@acsmotioncontrol.com; or go to www.acsmotioncontrol.com.



About ACS Motion Control

An international manufacturer of advanced multi-axis motion controllers, machine controllers and integrated control modules, ACS provides standard and custom products that combine power and precision to deliver flexible, economical, user-friendly motion and machine control solutions. Established in 1985, ACS' international headquarters is located in Israel and its North American headquarters resides in Bloomington, MN. ACS also has facilities in Germany, South Korea and China, and distributors worldwide that deliver dependable customer service and product support. ACS is an ISO9001 certified manufacturing facility, demonstrating its continuous commitment to providing customers with reliable devices that are thoroughly tested with the latest available techniques.



For more information, contact:

Ofer Ben-Ari

Products Marketing Manager

ACS Motion Control Inc.

972-4-6546440 ext. 243

oferb@acsmotioncontrol.com

www.acsmotioncontrol.com











More from Computer Hardware & Peripherals