ESSEMTEC to Exhibit Its Scorpion in America for the First Time at the IPC APEX Expo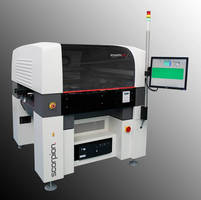 Glassboro, NJ - Essemtec, a leading manufacturer of surface mount technology (SMT) production equipment, announces that it will showcase flexible Swiss-made solutions in Booth #3233 at the upcoming IPC APEX Expo, scheduled to take place February 19-21, 2013 at the San Diego Convention Center in California.

The Scorpion fully automatic dispensing system sets new standards in dispensing technology. Thanks to the latest technologies, the Scorpion can dispense up to 100,000 dots per hour (DPH) with an accuracy of 51µm (3nm). The Scorpion is equipped with the most modern, accurate systems that drive and steering technology offer today. The easy programming and operation allow for the use of a wide range of dispensing applications, including LED electronics, solar cells, optical and medical devices or mechanical applications.

The Scorpion dispensing system is available in two versions - standalone or inline. The easy programming and operation allow for the use of a wide range of dispensing applications. The Scorpion can be equipped with up to four dispensing valves of any kind, in which case two valves are running in parallel. Each of the dispensing heads is equipped with an independent, highly accurate C-drive with an extra-large 85 mm (3.34") stroke.

The Paraquda 4C pick-and-place system combines a large feeder capacity, fast programming and changeover while the machine is running, with the ability to quickly place any component from 01005 up to 3.15 x 2.75" (80x70mm) including fine-pitch, BGA, CSP or flip chips. The Paraquda series automatic pick-and-place machines are designed to fulfill the requirements of a high-mix SMT production. All SMD components are placed quickly, and are reproducible and reliable using modern placement technologies.

The system features a three-stage conveyor with manual rail adjustment, and a tool changer with 1x36 positions and 14 nozzles. The high-resolution fly-by vision system is equipped with the latest Cognex SMD image processing technology, thus can detect any kind of component - even odd-shaped parts. The Paraquda is operated by ePlace - the new standard in pick-and-place software.

ePlace, the new software designed entirely by Essemtec, is based on the company's eez-technology. It has been fully developed in .net, uses an integrated database and offers a modern, interactive, intelligent and intuitive tool for controlling all parameters.

Essemtec's Tucano USC-V automatic stencil printer was designed based on experiences from solar wafer printing and metallization. Tucano features a unique design with only one XY-drive for vision, PCB stopper, stencil cleaning system, stencil load and unload, and 2D inspection. The special design increases the reliability of the printer and simplifies maintenance. Additionally, Tucano requires less space than other printers with a 23.9 x 22.8" (608 x 580 mm) printing area on a footprint of only13.99 ft2 (1.3 m²). It uses fewer motors than other systems for its operation, and therefore, uses less drive control electronics and energy.

Essemtec also will exhibit its newly introduced semiautomatic printer with vision, the Fino, which is more than adequate for small to mid-size volumes. Intelligent control and the possibility for an alignment per two vision cameras combines high quality technologies within a small footprint with a 17.7 x 19.7" (450 x 500 mm) printing area. The printer accepts any size stencil frame up to 23 x 23" (584 x 584mm) and offers quick changeover.

The PANTERA-XV is designed for prototype and mid-size series manufacturing. The machine offers an ideal combination of speed, accuracy and wide application range. The PANTERA-XV is capable of placing 6000components per hour. The machine features optical laser and vision centring, and can place all SMD components from 0201 up to 2 x 2" (50x50 mm). PANTERA-XVs top-down vision system recognizes fiducial marks automatically. It can be used for teaching and controlling after dispensing and placement. The large feeder capacity and the automatic identification of the intelligent feeders minimize changeover time and guarantee quality. All tape feeders are electrically driven and feeding pitch is programmable.

With a high-capacity 26" wide heater module, the Zonda series offers unmatched flexibility in board handling. The oven may be fitted with an adjustable single-rail edge hold conveyor/ mesh belt combo to carry even the largest boards or multi-board panels (up to 20" wide) through the oven. The Zonda series supports high-mix / medium-volume up to high-mix / high-volume throughput, at different speeds to accommodate the fastest pick-and-place systems while conserving valuable factory floor space. Rapid response times and precise temperature controls assure process uniformity, regardless of component density or board loading, with identical profile performance in either air or nitrogen.

For more information about Essemtec's flexible production equipment, visit the company in Booth #3233 at the show or on the Web at www.essemtec.com.

About the company:

The Swiss machine manufacturer Essemtec is a market leader in manufacturing flexible production systems for industrial users. Essemtec has been developing, manufacturing and marketing equipment and machines for all processes in the electronics industry since 1991: printers, dispensers, pick-and-place and soldering systems. Manual, semiautomatic and fully automatic systems are available. The range of products also includes transportation and storage systems, as well as software solutions for planning, simulation optimization and documentation of manufacturing. All Essemtec systems are optimized for maximum flexibility. Users can switch from one product to another quickly, making maximum use of available production capacity.
Essemtec - Be more flexible.

More from Machinery & Machining Tools